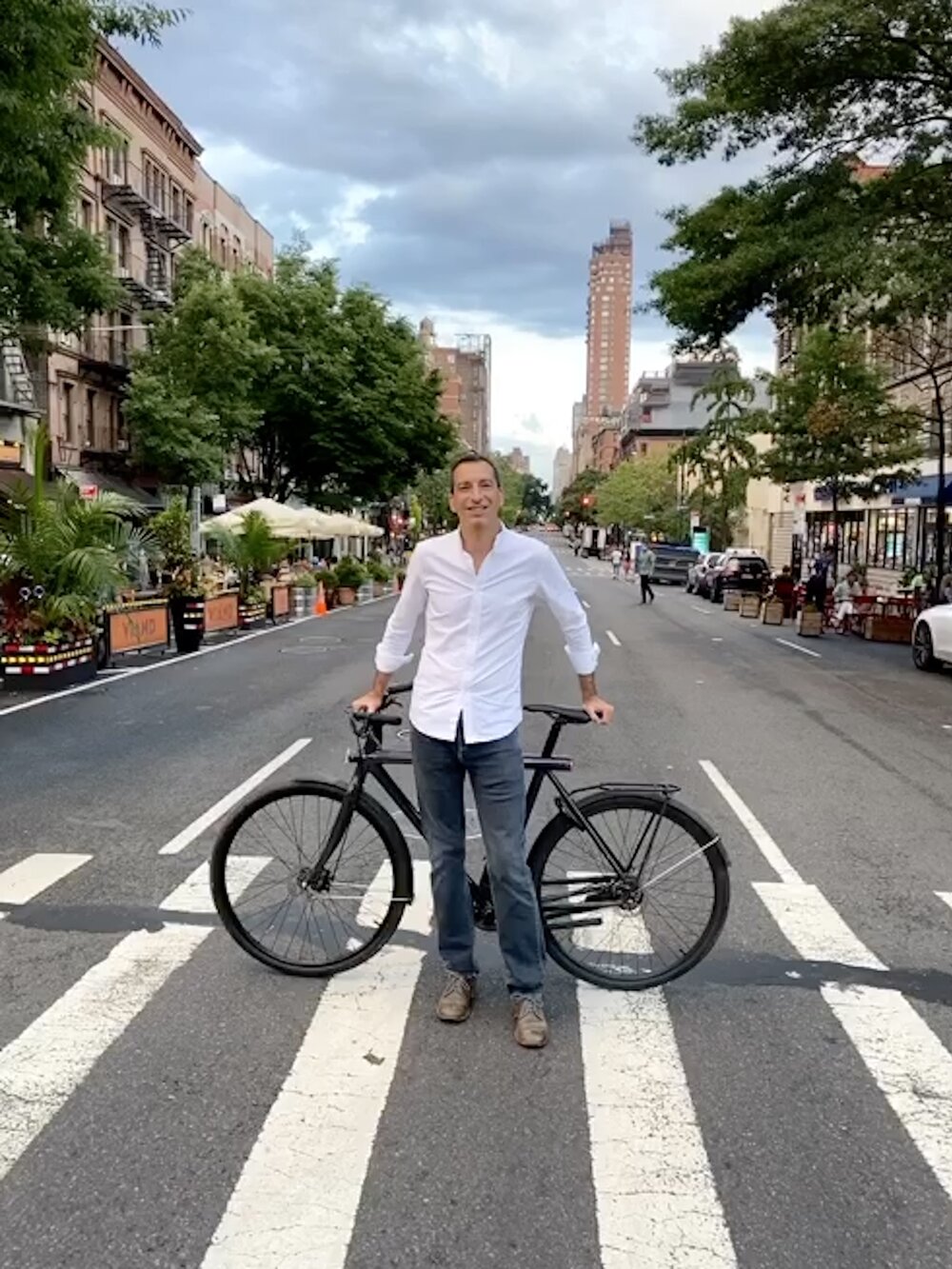 One of the more fun aspects about tracking a philanthropist over the years is to see how giving interests evolve, deepen and change over time to meet the needs of the day. It's also compelling to observe when a donor is ahead of the curve. Consider Craig Newmark's steady focus on supporting trustworthy journalism, the information ecosystem, and voter protection—issues that reached a fever pitch on January 6.
Then there's former hedge fund manager and proud Upper West Sider Mark Gorton, 54, who also founded Limewire, the discontinued peer-to-peer file-sharing client and Napster cousin.
The last time we caught up with Gorton, we dubbed him "car fighter." A pioneer of the livable streets movement through his nonprofit Open Plans, founded in 1999, Gorton puts his money and activism behind reshaping civic spaces. And he can now look to a transformed Times Square and Herald Square in Manhattan as signs of progress.
In 2020, New York City not only became an epicenter for a raging pandemic, but also a city that took to the streets en masse at outdoor restaurants, bars, and cafes — rain or shine or even snow.
I recently caught up with Gorton by phone to find out what's new in his world, especially on the heels of a year that no one will forget. The first question I asked was how he felt about the ubiquity of outdoor dining in cities across the country. "Obviously, I'm super-excited about it. The pandemic has done a lot to get people to see that streets could be used differently… It's really been quite remarkable," Gorton said.
To get readers up to speed, here's a quick refresher: OpenPlans is a nonprofit, technology-based advocacy organization that aims to open up government and improve transportation systems. OpenPlans runs both Streetsblog.org, an influential national publication covering sustainable transport, smart growth and livable streets, and Streetfilms.org, which produces short films demonstrating that smart transportation design and policy can result in better places to live, work and play.
Gorton has called these two media sources "a sort of central information source for the livable streets movement community."
Expansion on the ground
In the past two years, Streetsblog has expanded its editorial team to provide on-the-ground reporting on the national movement for transportation reform. The publication just hired three new reporters, digging deeper on topics related to the inner workings of the city government, including New York's department of transportation and department of parks and recreation.
This sort of demystification—muckracking, maybe—is important to Gorton, who says these municipal institutions need to be "systematically debugged." Gorton isn't just a donor writing checks from a distance. He's been getting his hands dirty in the trenches for several decades. At one point, he was Transportation Alternatives' largest individual donor. The seeds of the organization were planted in the early 1970s with a gathering of a few hundred New Yorkers in Central Park. Transportation Alternatives has claimed many wins through the years, including America's first protected bike lanes, the world's largest speed camera program, and lowering the citywide speed limit for the first time in 50 years.
While Gorton paints a picture of local government as slow-moving and bureaucratic, he does believe in the collective power of citizens. But that power can only be harnessed when paired with awareness; hence, his belief in the power of local journalism and filmmaking.
"There's a lot of resistance inside city bureaucracy to change," Gorton said. "And so there's a lot of work for us to do to highlight the specific problems and the dysfunction, and really dig into the inner workings of a lot of these agencies… so hopefully, the next mayor will take over and say, 'OK, I have a big list of stuff that needs to be changed and tackle some of these problems.'"
Recent Streetsblog articles include a critique of New York mayor Bill de Blasio for not providing safe cycling routes through Central Park. And a recent Streetsfilms video made the case for more space for bikes on 1st Avenue in Manhattan. A quant by training—he holds engineering degrees from Yale and Stanford—Gorton's also keen on aggregating data to make his case. A recent Data for Progress poll of New York City voters, for instance, showed that nearly 75% wanted more livable streets that prioritized needs and safety.
Toward an "office of public space management"
Gorton is also looking at new ways to connect with local government officials to generate change in urban planning. On that front, he spoke of what he calls an "office of public space management," an agency focused on the strategic management of streets, sidewalks and other public spaces to the New York City government.
The problem, as Gorton sees it, is that for at least the last 50 years, the New York City Department of Transportation and its predecessors have managed the streets as a transportation-oriented road network. But Gorton asks: What if we managed streets as places?
"That's been one of the big missing pieces in the city government," Gorton said.
During COVID, experimental sidewalk restaurants and other businesses operated on an emergency ad hoc basis. But over the longer term, Gorton argues, these spaces have worked best within business improvement districts that already have public space management as a built-in function.
Some of the duties and obligations of such an office would include a street hierarchy, which would designate some streets as truck routes; others as bus network streets, bike boulevards or open streets; and a community board divided into five sectors.
Gorton has been pondering these solutions for a few years now, but given the pandemic, they're much more timely. Open Plans strategists have presented a public space management proposal to several city council members and their staff. And mayoral candidate Maya Wiley has explicitly called for an office of public space. Still, the fight to implement such a plan continues.
Elsewhere, Gorton is continuing to back Transportation Alternatives, including around efforts related to public space near schools. During the pandemic, schools have been repurposing the street space in front of them to allow kids to play. But Gorton wants to make it easier for parent groups and schools to work with local government to make these changes happen.
Keep in mind that the Wall Street veteran and avid biker has been doing all this hands-on work without a formal family foundation, though that may eventually change. For now, expect Gorton, car fighter, to continue advocating for his beloved streets.