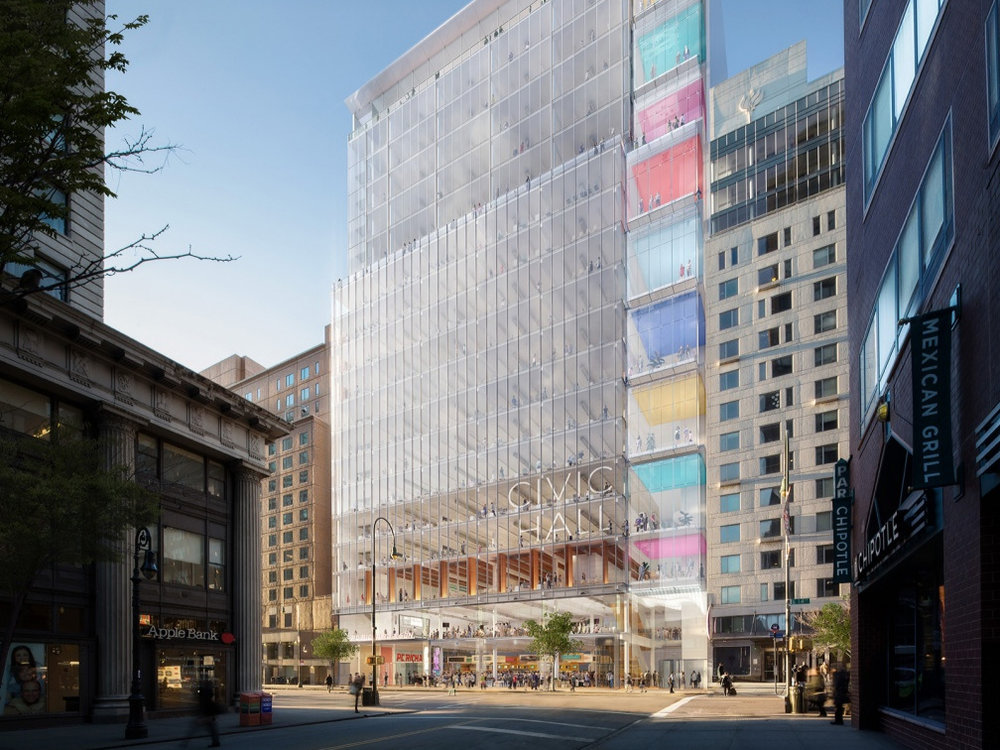 A rendering of Civic Hall @ Union Square. credit: Civic Hall
Last I caught up with Craigslist Founder Craig Newmark, he had just made a $6 million gift to Consumer Reports to help start a digital lab there and create new standards for our current digital age. With gifts coming at a healthy clip for several years now, Newmark's philanthropy has been prolific but focused— centered around trustworthy journalism, voter protection, women in technology, and veterans and military families. The self-proclaimed old school nerd sits on quite a few boards including the Sunlight Foundation, CUNY Graduate School of Journalism, and Girls Who Code. And while Newmark doesn't officially rank on the Forbes billionaires list, the publication estimates that he's worth at least $1 billion.
Now comes recent news that Craig Newmark Philanthropies has given a $5 million gift to Civic Hall, the home for civic tech entrepreneurs in New York City to—among other things—provide veterans and their families with subsidized membership to its community center. Civic Hall describes itself as a "community space where social entrepreneurs, change-makers, government employees, hackers, academics, journalists, and artists can share knowledge, build tools, and solve problems together."
I recently caught up with Civic Hall co-founders Micah Sifry and Andrew Rasiej to find out more about the nonprofit, and how they connected with Newmark to receive this major gift. In the process, I learned about an institution that has long dug into issues that Newmark has also focused on, illustrating the big payoff that can come when a donor and an organization have deeply aligned visions.
Tech for Good
Sifry and Rasiej began by telling me about the seeds of Civic Hall, which date back to 2004 when they connected through a mutual friend. Together they launched an annual conference called Personal Democracy Forum (PDF), which explores how the Internet is changing politics, governance, and advocacy. "Andrew and I both came to the same conclusion that the Internet was a new force for good and platform for change, and wanted to gather people excited by that possibility," Sifry explains, adding that, "These were the days of outsider campaigns like Howard Dean and organizations like MoveOn.org, which really pioneered using the Internet as a political organization platform."
The conference started to gain some traction, particularly with the election of Barack Obama in 2008. And by 2014, PDF did a 2-day event which convened some 1,000 people and had Sifry and Rasiej convinced they needed to take their work to the next level. Out of this, in 2015, Civic Hall was born. And by the the end of its first year, Civic Hall pulled in a range of organizations and had close to 700 or 800 members. Funding from the Omidyar Network was critical to helping Civic Hall get up and running. Other supporters have included the Ford and Knight foundations.
With co-working space in Manhattan and an active events program, Civic Hall offers a unique platform for public interest technologists who often don't fit in at typical tech incubators or WeWorks crawling with app and software developers. Its members are engaged in a range of work. For example, a startup called Klaatch, one of AARP Foundation's partners, helps elderly people who live alone build connections and community. Sifry and Rasiej also told me about Kristen Rouse, a veteran who started NYC Veterans Alliance, which aims to improve access to and delivery of services for veterans and families. Sifry says that:
One of the things we tried to do was be a space where whatever work you were doing in advancing public good—public service, media, philanthropy, media, government, and a lot of social good startups —you could come together. Yes, we have common challenges but also complementary skills that we can support ourselves with. And one of the beautiful things about being in New York City is that you get the full diversity of incredibly creative people.
A Dream Donor
Back when PDF was still getting off the ground, Sifry was out in Silicon Valley at an early Web 2.0 event. At the reception and surrounded by friends, Sifry recalls someone walking up and introducing himself, saying, "Hi, my name is Craig and I run a small community website and we want to be of help." At that moment, Sifry says his jaw just dropped. They invited Newmark out and did a keynote conversation with him called "A Craigslist for Politics?" which centered around the idea of imagining a hub for all the things people might do for each other in civic life, in the same way that Craigslist was a hub for everything in daily life.
Newmark continued to attend PDF and also connected with Sifry and Rasiej at the Sunlight Foundation, which the duo helped found and served as senior technology advisors for a decade; they ended up recruiting Newmark to join the board. And if that wasn't enough, Sifry is on the board Consumer Reports, where Newmark also has served. That Newmark continued to cross paths with these two speaks to deeply shared interests and goals. Sifry and Rasiej also note that these varied points of connection allowed them to truly get to see how Newmark operated within these different contexts, understanding the bigger picture of what he values and the range of his priorities. The Sunlight Foundation, for instance, is a nonpartisan organization that advocates for open government.
Newmark's latest gift also comes on the heels of prior support for Civic Hall. He gave it initial funding to help veterans get full use of the space. And after 2016 election, Newmark supported an Organizers-in-Residence Program for people in the civic arena trying to defend things like human and civil rights. 24 people went through the 6-month residency program.
Rasiej also notes that Newmark's overall philanthropy is keen on capacity building:
He's really interested in increasing the capacity and the reach of the organizations he supports. I think this is a through-line in all of Craig's giving. Not just seeing them operate but helping them exponentially expand their footprint. Once we got traction and showed that people were really coming to Civic Hall, this helped even more.
Newmark's latest gift gets at exactly the kind of capacity building Rasiej speaks about. The $5 million gift will help to expand Civic Hall's Digital Learning Center, which provides free and low-cost digital training for nonprofit and government leaders. It will also support Civic Hall's ongoing operations for the next two years as it prepares to move in 2021 to its future headquarters near Union Square in New York City.
Big Plans
Speaking of Civic Hall's new Union Square headquarters, back in 2016, Civic Hall and a developer partner RAL and Affiliates Inc. (RAL) were selected as the winners of a public bid process by the New York City Economic Development Corporation to develop a 250,000 square foot technology focused commercial center near Union Square, within New York City's technology district—also known as Silicon Alley. The new Civic Hall @ Union Square will occupy six full floors of the new building, three of which will house the Digital Learning Center. Additionally, one floor will house a new 300 person capacity conference center, and two floors will provide collaborative workspace for individuals, civic tech startups, and organizations all working to develop solutions in the public interest.
The timing of Newmark's funding is especially critical, because as Sifry notes, "you don't move from one space to another without being able to ramp up. We can now train roughly 500 people in our next year toward where we'll be going later on. So we'll be starting at a much higher level when we're up and running at Union Square in 2021."
Sifry also mentioned that Newmark wants to empower communication in this new digital age, something which Civic Hall's Digital Learning Center has focused on. He explains that when they started the center, they surveyed more some 80 nonprofits, and overwhelmingly, people revealed they wanted a dedicated place to learn about these new digital skills. "Sure, you could get a master's or go to a coding school, but there really isn't anywhere where you can come in for 4-hour workshop or 2-day intensive and get up to speed on cybersecurity, and all the other issues for people who are mid career and need a way to upscale. This is what our Digital Learning Center is offering now."
Ultimately, Civic Hall's strong connection with Newmark through the years is a great example of a donor and organization having a shared vision. But it's also striking just how well Sifry and Rasiej understand where their organization fits into the larger ecosystem of Newmark's giving—which ought to be instructive as well.