Adam Leobowitz (center), with fellows on retreat (Credit: CFF/Walter Hergt)
There's lots of evidence for the healing power of gardening, and giving patients and inmates the opportunity to nurture plants and tend gardens has become a common feature of progressive prisons and hospitals. Hans Hageman adds students to the mix. As executive director of Hudson Valley Seed, a rural New York nonprofit that supports garden-based learning, Hageman runs school gardens for students in 11 public elementary schools in the Hudson Valley. He also oversees a garden and egg-laying chickens for teenagers serving time in a maximum-security detention facility. "The teens really want to be outside, and they like putting their hands in the soil," he says. "It's a peaceful place."
On top of all this work, Hageman is a fellow in the first cohort of the Community Food Funders' new initiative, the Seeding Power Fellowship—an 18-month food justice fellowship program. Hageman and food leaders in other sectors are sharing strategies, talking topsoil and considering teaming up on funding proposals –"a sort of unified approach, something that is really exciting," he says. But one of the most immediate benefits was some practical advice on what might be called the battle of the Chickens vs. the Garden.
It turned out that the chickens at the detention facility loved the garden a little too much. Since the facility had not screened off the garden, the chickens were devouring it with gusto, making short work of the tomatoes and squash, and even going so far as to pull up some radishes. Fortunately, Hageman said, "Some people in my cohort who worked in agriculture told me what we could plant that chickens wouldn't destroy, such as elderberry bushes, lavender, and mint, which is really fast-growing… With the chickens, it is just a race against time."
For Hageman, a longtime educator in Harlem who graduated from Princeton and Columbia Law School, the collaboration and mutual support are among the most gratifying aspects of the fellowship, which he says has been "incredibly powerful.".
Like other members of his cohort, Hageman brings a mixture of passion and expertise to the fellowship. His parents had farming roots—his mother was part of the African American migration from southern farms to northern cities, and his activist father was from a white Nebraska farming family. "My dad marched with Martin Luther King, and after being arrested during the protests, they even shared a jail cell twice," he says. But, he adds, "while farming is definitely in my blood, when it comes to some of the particulars of growing, it's still fairly new."
Fellow Bianca Bockman is head of the Food Justice Programs at RiseBoro Community Partnership in Brooklyn. She, too, was enthusiastic about collaborating with her cohort, but expected it would take a long time. Instead, she says, it's already in motion. She's helped arrange for a cohort fellow representing street vendors to see whether they could cater or vend for her group's annual harvest and Day of the Dead festival on October 27 and is looking into longer-term collaboration. Says Bockman: "It's exciting to see these connections begin to form."
Uniting a Fragmented Food Movement
The Seeding Power Fellowship was born from the realization that there are hundreds of non-profit policy and education groups working on issues of food justice and the food economy but many are not even aware of each other's work, said CFF director Adam Leibowitz.
"The problem is there's no unified food movement, which is the case for the United States as a whole," Leibowitz told Inside Philanthropy. "Instead we've had all these siloed movements. Nutrition and health people work on their stuff. Environmental folks come from a different angle. Social justice groups and others are involved in issues like the turnover of aging farmers and the loss of farmland. Everyone is fighting the same thing—power, agribusiness and capitalism gone rampant—but some seem like they're at odds with each other."
Fellowship co-designer Simran Noor (center) in exercise at retreat (CFF/Walter Hergt)
For this reason, the Fellowship's goal is to unite the regional food movement's diverse factions and food sustainability leaders in New York City, Long Island, and the Hudson Valley get to know each other, network and collaborate. Leobowitz, who co-designed the fellowship with Simran Noor of Noor Consulting, says while most leadership programs focus on building an individual's skill set, the Seeding Power Fellowship focuses on building a movement — one based on racial equity and social justice.
"After all, relationships are the infrastructure of movements," Leibowitz says. "You can't work together in a movement doing this incredibly hard work without that. " If groups are wrongly cast as rivals, he adds, they're less likely to succeed.
So far Community Food Funders—a network of philanthropic organizations and individuals funders that's part of the North Star Fund—has raised approximately $250,000 for the fellowship project's first cohort. Many steering committee members were so enthusiastic about the fellowship that they doubled their contributions. The 12 fellows in the first cohort include leaders from sustainable agriculture, urban farms, education, worker rights groups and street food vendors. Besides participating in retreats, site visits, course work and peer coaching, each fellow is expected to design a project and carry it out.
Running a Food Funders Network
Community Food Funders runs and fundraises for the fellowship and other CFF programs, but it is not a grant-making entity. Instead, it's directed by staff at the North Star Fund, which provides in-kind support, and led by a steering committee of grantmakers from 14 organizations active in food system work. Its goals include finding opportunities to invest in "a sustainable and equitable food system in the region," and to reduce or eliminate fossil fuels and toxic chemicals throughout the food chain.
A key theme of the fellowship's work is promoting a sustainability network. Its staff holds roundtables, site visits, and briefings for funders on everything from farmworker rights to tackling hunger. It sponsored a briefing this summer called "Pesticides in Paradise: How Hawaiian Communities Took on the Chemical Industry and Won," co-hosted by food activist and author Anna Moore Lappe, which examined a recent victory by low-income Hawaiians of color that may provide a roadmap for others..
The briefings have moved some foundations to support various sustainability groups for the first time. In one case, a group of funders interested in urban agriculture in New York City came together to fight for free meals in New York City public schools—a project that had been stalled politically. This time, the campaign won.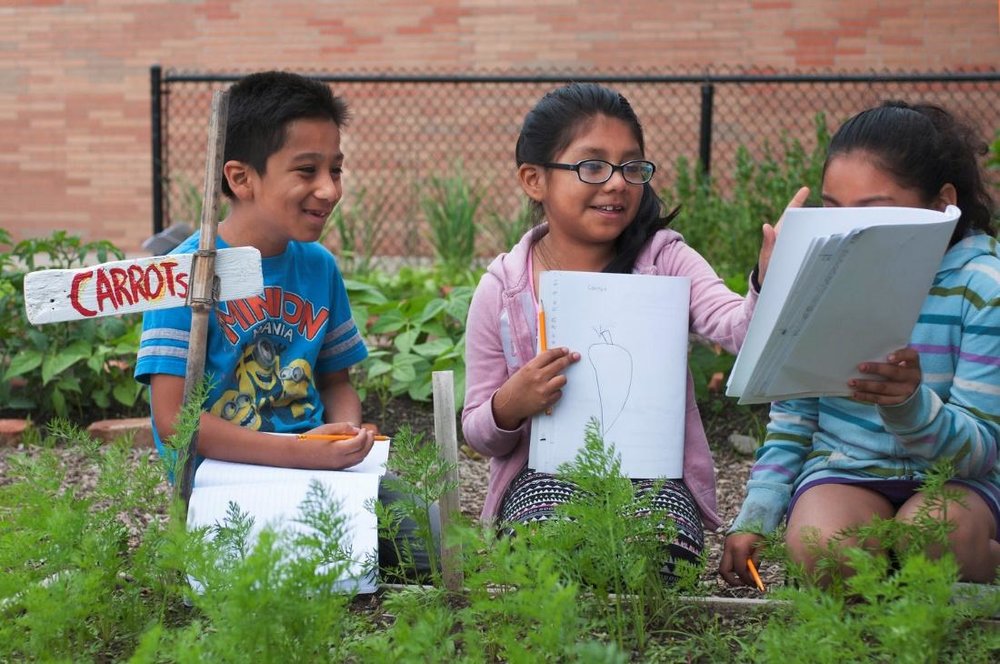 Elementary school students working in one of Hageman's Hudson Valley Seed school gardens (Credit:Hudson Valley Seed)
Meanwhile, members of the Seeding Power Fellowship's first cohort continue to make new connections. Hageman says teens at the correctional facility ply him with questions such as"What's a radish?"; "Are chickens color-blind?" and "Can we have more gardening classes after we get out of prison?" Some of the teens are even talking about getting jobs as landscapers. "Getting in touch with the earth and Mother Nature—no matter what circumstances you may find yourself in—will open up horizons," Hageman says.
Hageman also appreciates the fellowship's emphasis on self-care, which is part of the curriculum. "It has surprised me how many of us are struggling with the same issues, such as how to take care of yourself and avoid burnout, all of that," he says. He is certain that he will maintain his ties to the cohort after the fellowship is done.
So is Seeding Power fellow Mohamed Attila, who directs the Street Vendor Project in New York City (part of the Urban Justice Center). He spent nearly 10 years as a street vendor in NYC selling hot dogs, halal chicken and rice, and smoothies after emigrating from Alexandria, Egypt In 2008. He met his future wife when she sold her a hot dog on the sidewalk of Times Square. Through the fellowship, he sees that as immigrants, rural farmworkers and street vendors share many of the same problems, including discrimination, wage theft, police harassment, and disrespect.
"For too long we've had many nonprofits working on one food system issue and ignoring the rest," Attia said. "But if we all speak in one voice, imagine how much impact that might have. Maybe elected officials and the public would change their minds about workers in all parts of the food chain."