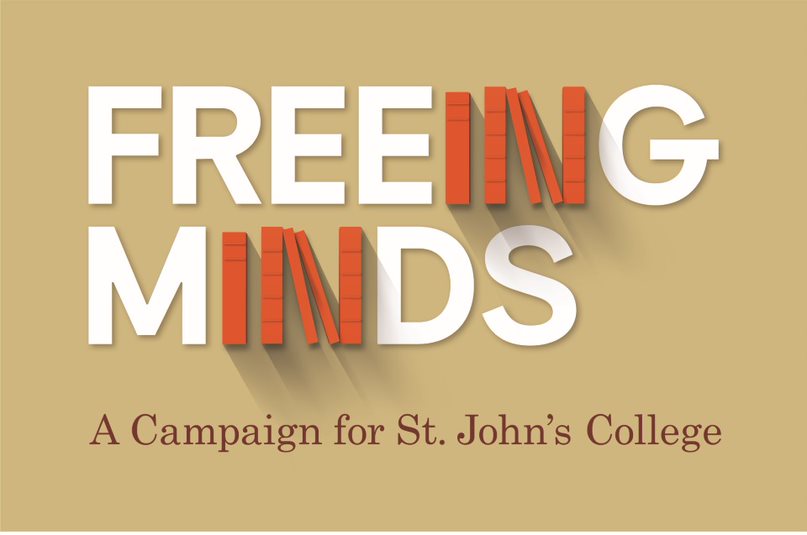 In a bid for its future, St. John's College, a small college with a famous Great Books curriculum, has begun a massive "Freeing Minds" fundraising drive to help buck a prevailing tuition trend: "prestige pricing." For years, small colleges have raised tuition prices on the notion that parents view a college that costs more as being more prestigious. Colleges increase their tuitions, hoping that the money from the richer parents will cover tuition assistance poorer families may need.
But starting this year, in a move that has delighted alumni, friends, and fans, St. John's is lowering tuition by a whopping $17,000—from $52,000 to $35,000—coupling the decrease with the Freeing Minds campaign. The drive, which has a goal of securing $300 million by the end of fiscal 2023 for the college's rigorous educational model and endowment, has already raised $204 million.
St. John's is one of the oldest institutions in the nation (it received its collegiate charter in 1784 after being founded in 1696 as King William's School, a preparatory school). Francis Scott Key, who penned America's national anthem, is one of its famous graduates. It has a little over 500 students on two campuses—the original campus in the Maryland capital of Annapolis and the second, started in 1963 in Santa Fe, New Mexico.
The distinctive educational program St. John's is known for began in the 1930's when the college faced a Depression-era financial crisis that led to a momentous re-imagining of the college. Educational innovators Stringfellow Barr and Scott Buchanan introduced the Great Books curriculum based on the reading and discussion of works from the Western Canon on philosophy, religion, history, mathematics, science, and literature. Since then, the college has become the darling of liberal arts champions for its rigorous, Socratic approach to a classical education.
A Different Model
The model endures today with a student-teacher (or tutor, as they are called) ratio of seven to one, as expensive an educational method as one can get, and St. John's is adamant about keeping it in place. The college can do without the expensive gyms, luxury dormitories, swimming pools, and other amenities some colleges are building, but St. John's refuses to go without its Great Books curriculum.
"We are raising money to continue what we are doing," says Mark Roosevelt, president of the St. John's Santa Fe campus. He worked with the new president of the Annapolis campus Panayiotis (Peter) Kanelos to launch the Freeing Minds campaign.
"What we do is very expensive—18 students around a table with two tutors," Roosevelt said. "We put our money into the academic program. More than any other college I know, the program is St. John's. "
Roosevelt points out that, increasingly, students nationwide are unable to pay the rising costs of college.  "We used to get 80 percent of what it costs to run a college from student-derived revenue, and now it's under 50 percent," he said. "That's why you see so many small colleges in trouble and closing."
"There are fewer college-going kids and they have less money. This became very clear to us a few years ago and that's why we are running this campaign." Roosevelt added: "We were running at a deficit of $7 to $10 million annually and now it's under $2 million and we are on the path to no operating deficit at all by 2021."
Peter Kanelos, who became president of the Annapolis campus in 2017, agrees there is an urgent need for colleges to re-think their tuition-pricing strategy.
"College tuition has increased 33 percent in a decade—if we continued on that pathway it takes the price into the stratosphere," Kanelos said.
At $35,000, he said, St. John's tuition is equivalent to what the public University of Maryland charges its out-of-state students, "which seems fair to us and reasonable."
"In most institutions, tuition is your major source of finances, and that is supplemented by philanthropy," he added. But in this model we're making philanthropy the centerpiece of our finances, and tuition fits into that model."
"What signaled to us that we'd made the right choice was the robust response of our community," Kanelos added.  "And we have had tremendous national press—a lot of schools have inquired how we do this, and I think we'll have a successive number of colleges that will try this."
Donors Get on Board
The Freeing Minds campaign was launched  in 2016 with two $25 million gifts from Ron Fielding and Warren Spector, both of whom sit on St. John's board. That generosity was followed by a big challenge grant from the Winiarski Family Foundation, which will match every cash campaign gift dollar for dollar, up to  $50 million, by making a donation to St. John's endowment.
This gift from St. John's alumni Warren and Barbara Winiarski, Napa Valley winemakers who founded Stag's Leap Wine Cellars,  has "absolutely inspired other alumni," said Kelly Brown, vice president of advancement who also serves as campaign director.
"In our first public year of fundraising we reached $1 million in gifts of less than $5,000 to the annual fund because of the alumni and friend response to the lowering of our tuition," Brown said. "So everybody is involved, not just the big givers."
One reason the campaign has been so successful is a decision made by Brown and other fundraisers to engage the St. John's alumni on the front end about where the college should be moving, particularly with tuition and student access.
"To my knowledge, it's unheard of to spend a year engaging your alumni on the strategy and theme of the capital campaign," said Carol Carpenter, vice president of communications. "It made people anxious, but you are laying the groundwork for a seamless launch and getting the buy-in of your most important community."
Carpenter said the fundraising team was struck by a study that found that 60 percent of American families don't understand that the published sticker price of tuition is not the price the vast majority of families actually pay.
"You have a lot of working class and middle class families that do not have access to college counseling and the insider knowledge that the sticker price is not the real price that people pay," she said.
"We are trying to address both the perception that it's too expensive and to increase our affordability by growing our philanthropy for the endowment, which will allow us to grow our already generous financial aid."
"A Better Way"
Tia Pausic, president of the alumni association, graduated from St. John's Annapolis campus in 1986.
"In 1981 I was looking and came across St. John's. I read the catalogue and knew it was the college I wanted to attend, Pausic recalled. "It was the only college I applied to. What really appealed to me was the small groups of students with one to two tutors talking about the books and collaboratively trying to understand what they were all about."
The tuition re-set thrills alumni, who now feel that they can afford to send their own kids there, Pausic said.  "The school has found a better way to make the tuition more affordable."
At the beginning of the campaign, Pausic and a classmate were talking about making $25,000 pledges when they realized they could start an endowed scholarship fund for both campuses and recruit other donors from the class of 1986.
"By the time the campaign became public, we had raised $130,000, said Pausic. "Now we're at $145,000 and we're hoping that within two years, our 35th reunion year, we'll be up to $200,000. It should generate $10,000 a year for scholarships and will continue to grow, so our classmates can leave a legacy to the endowment."
The excitement and generosity of the college's alumni, or the "Johnies," as they are called, is a testament to the inscription on the St. John's Seal, the inspiration for the Freeing Minds campaign:  Translated from Latin, it reads "I make free adults out of children by means of books and a balance."  (The 'balance' refers to the mathematical tool students study.)
Free adults are now ensuring that future generations at St. John's can pursue the life they've loved— the life of the mind.