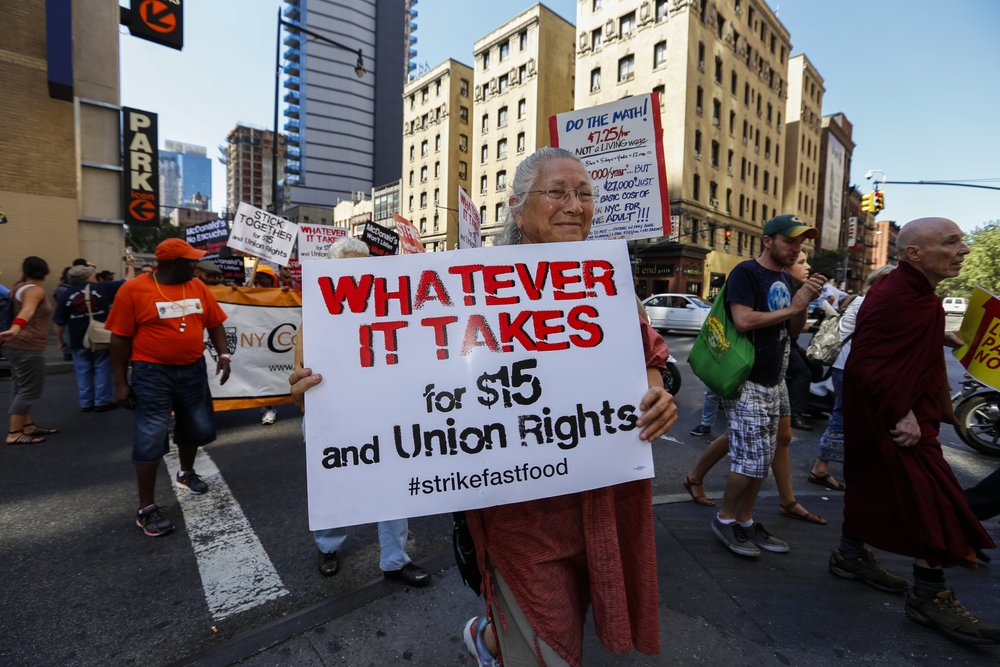 IP Funder Spotlights provide quick rundowns of the grantmakers that are on our radar, including a few key details on how they operate and what they're up to right now. Today, we look at the General Service Foundation and its focus on creating a just and sustainable world.
What this funder cares about
Founded in 1946, General Service Foundation (GSF) aims to "support and amplify the efforts of those who are working to create a more just world." GSF runs three initiatives: Building Voice and Power, the Lani Shaw Movement Award and the Defending the Dream Fund.
GSF's Building Voice and Power initiative focuses on organizations that view their work through both a racial justice and gender justice lens. The Lani Shaw Movement Award celebrates emerging movement work. And in 2017, GSF partnered with Hill-Snowdon Foundation to launch Defending the Dream Fund to respond to post-election threats by rapidly funding grassroots organizations working in under-resourced areas or issues.
Overall, the foundation tends to support emerging organizations with multi-year grants and aims to "minimize the power imbalances that are typical in funder-grantee relationships." Funding is generally limited to the United States, and while GSF is based in the Bay Area, grants tend to fund organizations whose work spans the country.
Why you should care 
While social justice and racial equity are major buzzwords these days, GSF has been engaged in justice work for decades, working through its own channels as well as partnering with other similarly aligned organizations. In the past, the foundation took a more issue-specific funding approach. But it has since evolved toward a more holistic mode—under the leadership of current Executive Director Dimple Abichandani in particular—backing organizations on the ground that contribute to a "broad, sustainable, intersectional movement for justice."
GSF aims to champion work that takes both racial justice and gender justice into account. It's particularly interested in supporting efforts that include visionary organizing, alliance-building, cultural and narrative work, and leadership development efforts.
Where the money comes from 
At the end of World War II, Iowa couple Clifton and Margaret Musser endowed General Service Foundation with family wealth generated through timber and other industries. The couple never served on the board of directors, instead opting to hand over leadership to their daughter Marion and her spouse, their son John and his spouse, and a family friend named Edmond. The Musser-Lloyd family has continued to steer the foundation through the years and is now moving into its fifth generation. In a recent fiscal year, assets stood at nearly $72 million and the foundation gave away around $3.5 million that year.
Where the money goes 
For new recipients of GSF funding, grants typically range between $20,000 to $35,000 annually. For long-standing grantees, $35,000 is the average, though the foundation considers requests up to $75,000 annually. Recent grantees have included Chinese Progressive Association, Jobs with Justice Education Fund, Ms. Foundation and New Orleans Workers Center for Racial Justice. GSF is one of only a short list of grantmakers regularly backing 501(c)(3) labor movement organizations, which it has done in an extensive way in 2021 through its Building Voice and Power grants. Find a full list of grants by year here.
Open door or barbed wire? 
The foundation has an accessible website, including a full list of grants over the past six years and descriptions of its grantmaking priorities and interests. GSF makes grants twice per year, but as a small foundation, it prioritizes multi-year grants to long-term partners. It is not currently considering any proposals from new applicants, though it may reopen that process down the line.
Latest big moves 
One example of GSF's new, more holistic approach to grantmaking: It recently made a two-year, $400,000 grant to Neighborhood Funders Group (NFG) in Oakland, which organizes philanthropy to support grassroots power-building to benefit low-income communities and communities of color. The grant will support NFG's Amplify Fund, whose members (in addition to GSF) include the Ford Foundation, the Moriah Fund, Open Society Foundations and the Raikes Foundation.
The Amplify Fund works in Missouri, Nevada, North Carolina, Pennsylvania, Puerto Rico, South Carolina, Tennessee and California, and aims to distribute resources to local organizations through general operating support as well as wraparound support for grantee-driven learning and capacity-building. GSF also made a three-year, $600,000 grant to the progressive fiscal sponsorship entity New Venture Fund this spring.
One cool thing to know 
One of the foundation's efforts, the Lani Shaw Movement Award, honors a longtime GSF executive director who was a leader in social change philanthropy and at the foundation for some two decades. The annual award puts a spotlight on unheralded, risk-taking movement work. In 2020, for example, Native Organizers Alliance received the award, which comes with a $50,000 grant. The 2019 awardee, meanwhile, was the Families Belong Together campaign of the National Domestic Workers Alliance, which aimed to prevent further federal funding of private prisons and detention centers.
In a philanthrosphere that sometimes gives short shrift to the staffers doing the day-to-day work, it's nice to see GSF honoring a staffer whose influence still looms large in its work. And it's a good reminder that these kinds of figures aren't just founders and board members. We should also mention that it is the family's youngest generation that selects the Lani Shaw Movement Award winner.
"Lani Shaw taught me that leadership is not always loud and upfront, that often, it is about deep listening, reflection and empowering those around you," said Zoë Lloyd Foxley, a fourth-generation family member.