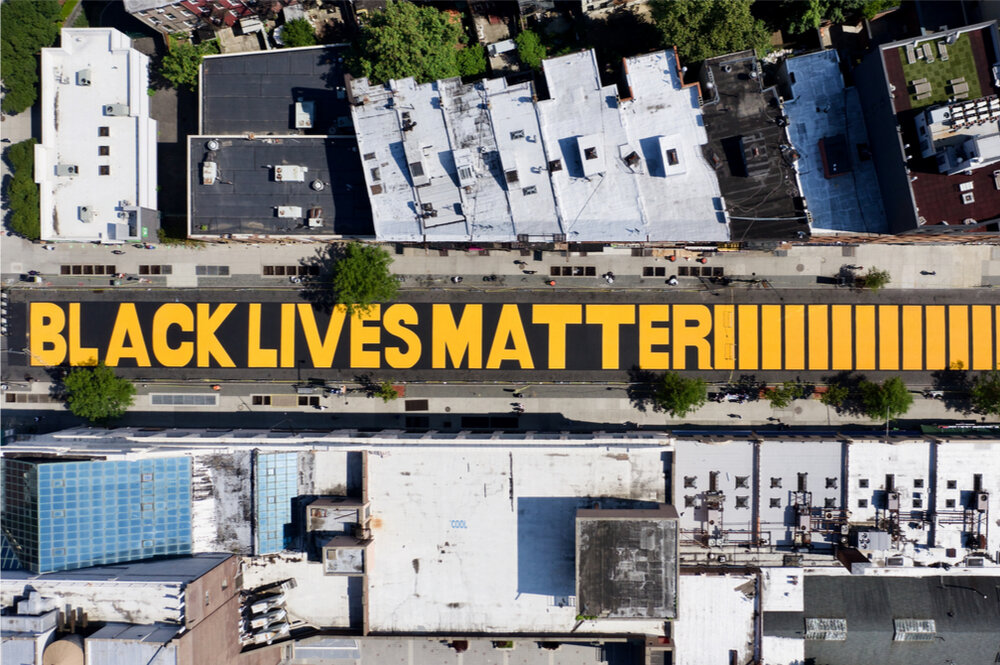 Since the killing of George Floyd in late May, nationwide protests have toppled statues, changed policies, and made other historic gains. They're also beginning to shift philanthropy, with a remarkable surge in recent weeks in funding commitments to racial justice from foundations large and small. 
While it seems more foundations than ever are joining the movement, it's too soon to know whether it will mark a long-term shift in what they fund—and how they fund it. Philanthropy has a long history of underfunding communities of color, particularly Black-led organizations, which both receive less money and face more restrictions on that support. But one of the largest new philanthropic commitments to the cause, coming from progressive titan Open Society Foundations, is a promising signal.
Open Society announced last week it will spend $220 million over the next five years to support power-building in Black communities and sustain the movement beyond the current moment. The bulk of the funds—$150 million—will back 20 Black-led organizations, notably in the form of unrestricted, five-year grants, and including some support for 501(c)(4)s for political engagement beginning in 2021. The duration and lack of restrictions on these grants are just as remarkable as the size of the pledge.
The remaining $70 million, which the foundation aims to issue this year, will focus on three areas: reimagining public safety, combating voter suppression, and organizing internships and training for young people, with a focus on first-time activists mobilized by the recent uprisings around the nation.
"This movement keeps changing our sense of what's possible in terms of justice, but also how we do our work in the philanthropic sector," said Tom Perriello, executive director of Open Society-U.S. "Now is not the time to come in thinking somehow that we should be bringing our wisdom to bear. We should be coming in to fund on their terms."
Open Society's announcements come nearly three months after a smaller, $130 million commitment for coronavirus response led 211 staff to sign a letter criticizing the move for shifting money from current grantees and accusing leadership of falsely implying the funds were fresh investment. Perriello says this commitment is "new money."
While this is a significant increase, Open Society's grantmaking on racial equity dates back two decades, including a $25 million investment last year in multi-year grants to organizations led by people of color. Perriello said those groups' successes—in pushing criminal justice reforms, resisting discriminatory policies and campaigning against harmful corporate behavior—laid the groundwork for the new announcements. 
Those wins, along with the magnitude of the moment, helped make the case to the foundation's founder and chairman, billionaire financier and liberal activist George Soros, both for the new investment and its terms. The goal, said Perriello, was to "center Black leadership" and "let the movement define their future on their own terms."
The multi-year and open-ended nature of the commitment is part of an emerging shift within the sector, said Lorraine Ramirez, senior program manager of Funders for Justice.
"What we're seeing in this moment is philanthropy moving money to movements, for movements to determine what they want to see. And that's a learning trajectory for OSF, as well as philanthropy overall," she said.
Lateefah Simon, president of the Akonadi Foundation, which recently announced that it would commit $12.5 million over the next five years to stop the criminalization of youth in Oakland, says Black leaders are finally starting to get their due.
"This moment has also created a reckoning in philanthropy," Simon said. "There's been a deep disrespect and anti-blackness within philanthropy writ large. Period."
Simon says the memories of her interactions with funders when she was an executive director are still fresh in her mind. "I had funders telling me to my face, who had never knocked on a door, that what I was doing at the Young Women's Freedom Center wasn't organizing," she recalled. 
"Black leaders have long been left out of being supported in the movements they're leading," she told me. She's glad to see philanthropy start to say, "We're going to start funding existing institutions that we have for too long ignored or disrespected the leadership."
Akonadi's commitment—which Simon says is essentially the foundation's "grant budget compacted over five years"—came about after a year and a half of research into the grantmaking ecosystem supporting people of color in Oakland. In a series of conversations before the pandemic, groups told Akonadi they weren't focused on getting larger, but on doing their work, with the stability and resources to do it well.
"Support a legal service group to help us. Give us money for data scientists," the groups, all of whom were prior grantees, told them. "We're doing exactly what they said they wanted. We're wrapping resources around those efforts," Simon said. Akonadi's goal was also to provide enough financial certainty "so these young people, they're not at their computers every moment filing grants," she said, a sentiment Perriello echoed.
Some of Open Society's chosen grantees are established organizations the foundation has funded before, such as Repairers of the Breach and the Equal Justice Initiative, whose founder, Bryan Stevenson, wrote the New York Times bestseller "Just Mercy," which was made into a film last year. In 2017, OSF gave those two groups $150,000 over two years and $1.5 million over three years, respectively.
Other beneficiaries are emergent groups that have not received funding from the foundation previously, including Circle for Justice Innovations and Black Voters Matter. More recipients, which include a mix of national and regional organizations, will be announced as grant agreements are finalized. 
The landscape for grantmaking to people of color and Black-led organizations may be shifting. Grants for people of color accounted for just one in 10 of U.S. grant dollars in 2016, according to an analysis by the Philanthropic Initiative for Racial Equity, which Ramirez calls the "industry standard." The study, which IP has previously covered in depth, looked at grants over $10,000 from the 1,000 largest U.S. foundations.
Evidence suggests those gifts are spread pretty thin, at least for Black-led organizations. A December 2019 survey of such organizations found that just 12%, or eight of 65 respondents, had received a foundation grant of $100,000 or more. Some 60% of organizations had total budgets of less than $500,000, according to the report, which was commissioned by ABFE: A Philanthropic Partnership for Black Communities. 
Black-led organizations receive less funding, but they also receive smaller grants and less unrestricted support, suggesting a lack of trust on the part of funders. When Echoing Green and Bridgespan recently examined the applicant pool for Echoing Green's social justice fellowships over several years, they found, on average, the revenues of BLOs were 24% smaller than their white-led counterparts. The gap for unrestricted funding assets jumped to 76%.
Even some of the most prominent organizations have relatively limited funding. For instance, the Movement for Black Lives—the racial justice coalition that includes the #BlackLivesMatter network—raised $2.7 million in 2019, a year in which foundations gave away an estimated $76 billion dollars, the highest dollar total in history. This year, with racial equity protests still ongoing and M4BL aiming to raise $50 million, funder interest appears to be rising.
A wide range of foundations have made pledges to funding racial equity in the preceding weeks. The Hewlett Foundation, which has not historically funded such work, recently announced a $170 million commitment. The Meyer Memorial Trust is giving out $25 million over the next five years, the James Irvine Foundation is spending $20 million over 18 months, and the Lumina Foundation has committed to $15 million, among other announcements.
"I think we've got to shatter the ceiling for what we consider a large amount of money for racial justice groups," Perriello told me. "While we're very proud of the investment we're making, it shouldn't be as historic as it is." 
George Soros' foundation is no stranger to big bets. This January, to take one example, the foundation announced a $1 billion pledge to create an international educational collaboration called the Open Society University Network. 
As Ramirez, who used to work at the New York-based funder, puts it: "OSF certainly has a long history of major investments in this area, but this really steps it up to a level that reflects their resources, and that really seeks to meet the movement moment."
While on some level, it's a dramatic response to a historic moment, Ramirez says the seeds for this current wave of funding for racial justice were planted not in recent months, but in 2014. 
"While this moment has moved philanthropy, I think we have to be clear that the Ferguson uprisings are what turned us all, are why philanthropy turned this corner now," she said. "That movement moment energized and mobilized so much of philanthropy, and because of the tremendous organizing in philanthropy and around the country, philanthropy was forced to respond."
Funders for Justice is one example of that shift. The network was born in late 2014 to respond to the protests in Ferguson sparked by the fatal shooting of Michael Brown. Their first convening, in 2015, had 75 participants. Ramirez says today, they have over 500 members. She points to Borealis Philanthropy and Solidaire Network as two other examples of responses that grew out of that time.
But it won't just be changes with philanthropy that push grantmakers to shift their practices, Ramirez said.
"What we need to be clear about, it's both hearing from other funders and the tremendous work of people organizing on the ground. Funders also read the newspaper, they read the news," she said. "Because of folks on the ground, the whole conversation around racial justice, around defunding the police… has changed in the last few years."