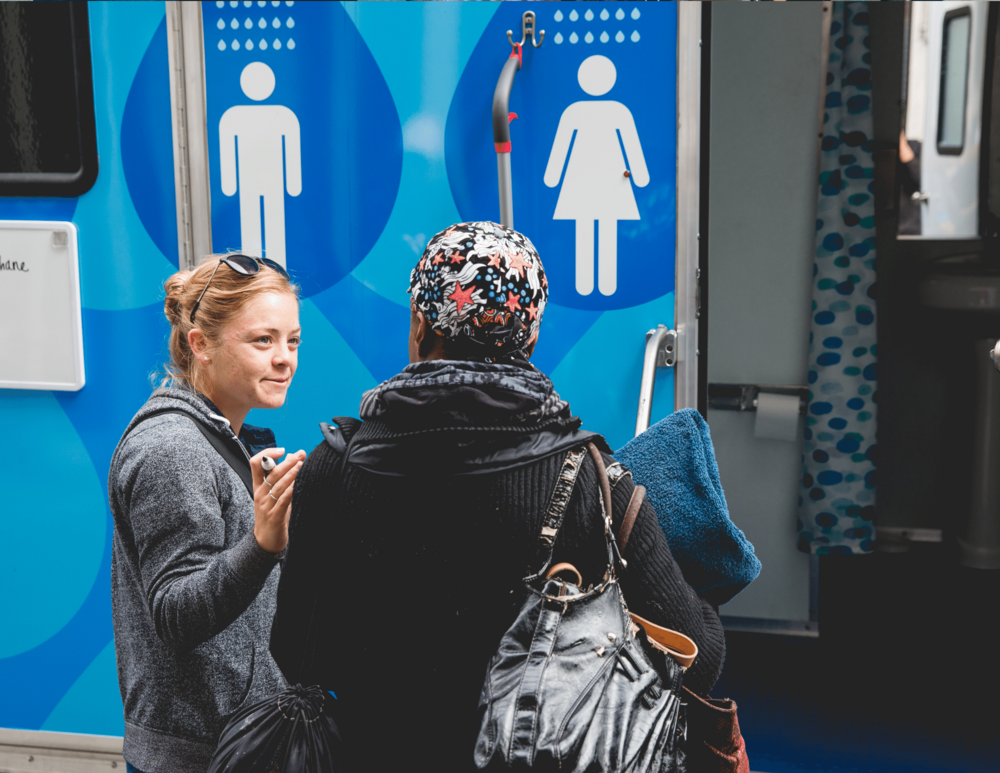 In January 2021, LavaMaeX launched an online platform providing free resources, educational opportunities, access to seed funding and peer connections for community groups and social entrepreneurs who want to replicate our model of streetside mobile shower and care services for unhoused people. By December, 1,464 people from over 608 cities in 32 countries were using the platform.
The response to LavaMaeX Connect illustrates both the potential for grassroots action on high-profile problems and the hunger for resources. People in communities everywhere are highly motivated to do something about the homelessness crisis. Many feel a similar urgency about climate change and economic justice. We've found that these impassioned social entrepreneurs can make real progress with small amounts of seed funding—but they also need expert support.
Lessons from building a global network of streetside care providers
LavaMaeX teaches and trains people around the world to bring mobile showers and other essential care services to the streets and deliver it with Radical Hospitality, our philosophy of treating people with extraordinary care—something rarely offered to our unhoused neighbors. We support social entrepreneurs, communities and nonprofits that want to do this work with free toolkits, intensive advising and seed funding.
In addition to offering the Connect platform, LavaMaeX provides one-on-one mentoring and money to promising providers, largely through a funding pool from the Unilever social enterprise The Right to Shower. In supporting 28 of these startups through launch since 2019, we've seen that technical and strategic consulting speeds time to the street, sets people up to succeed, improves program quality, and in many cases, is crucial to getting a new provider off the ground.
While mobile shower and care services pose particular challenges, many are common to grassroots community initiatives: dealing effectively with multiple city bureaucracies, developing an ongoing fundraising strategy, training and coordinating volunteers and staff, and creating and managing physical infrastructure. Our experience shows that getting a multiplier effect from investments in grassroots initiatives requires training, technical advising and moral support, often before any program funding is dispensed. The added benefit is that when we do make grants, we don't have to put program founders through a time-consuming vetting process—we already know they're ready.
Capacity investments make impact possible
On average, we invest 40 hours in consulting with a mobile shower startup from what we call the "dream" stage to launch. That is time well spent. Initially, it's a vetting process: We explore their motivations, priorities, mindset, how invested they are in doing this work, how connected they are to the community they're serving, and how much money they've raised on their own. We're looking for that deep sense of purpose that is necessary for success: Are they really going push this boulder up the hill?
Once vetted, startup providers need mentoring in both the technical and interpersonal aspects of providing mobile service. This is where Radical Hospitality training comes in. Most people have questions about dealing with traumatized people and de-escalating tense situations, connecting with guests on a relationship level and building trust—which is crucial to success in working with any population that has been marginalized and feels poorly treated by institutions.
On the intensive end of the consulting spectrum, we can spend well over 100 hours with a fledgling provider, as we did with S.H.A.R.E. Community in Antioch, California. Founder Ricka Davis-Sheard had a donated trailer but needed a truck to pull it to multiple locations. We gave S.H.A.R.E. a $10,000 grant toward the truck purchase, but that was just the beginning.
Over two years, LavaMaeX consultants guided S.H.A.R.E. through setting up a site location; coached Davis-Sheard on asking for donations; provided on-site Radical Hospitality training; walked the team through service, from supplies to intake to handling difficult situations in a sensitive way; and worked with them on-site. The result: S.H.A.R.E. Community's weekly shower service launched in November 2020 and is delivering over 100 showers a month.
No one pushes a boulder uphill alone
Even self-starters who move quickly through the beginning stages of setting up a nonprofit or who have the backing of an established community organization face hurdles they need expert help to clear.
Just one example: A novel program, even if it's welcome, can easily get stalled by regulatory requirements. Few challenges feel more Sisyphean to the organizations we mentor than navigating city permitting systems.
Streetside Showers is a good example. Founder Lance Olinski got off to a fast start, diving into intensive training and raising money at a rapid clip. But he was a pioneer in Texas when he launched a shower service in 2017, north of Dallas, in McKinney, and it wasn't clear what it would take to get permitted. "Municipalities here in Texas don't want to admit that they have homelessness issues," he says.
We advised Olinski to seek out partners that were already serving unhoused populations—a good practice in any kind of deep community work. Local shelters, churches and other service organizations might already have volunteers, security, trash pickup and water access covered, and they can help with outreach. Providing multiple services at an established site is also an enormous benefit to people who don't have the resources to travel to multiple locations.
Once cities see the impact, they're more willing to work with a new provider. That's what Olinski found. He also learned to communicate to municipalities that they need to have a plan before they have a crisis. "When I speak," he says, "I talk about cities taking care of their own citizens experiencing homelessness."
Now, he's on the McKinney mayor's task force on homelessness, and Streetside Showers, with 200 volunteers and seven paid staff members, runs weekly service sites in eight Texas cities and Palm Bay, Florida.
Flexible funding is a catalyst for high-impact experimentation
After spending significant time on the streets and building relationships of trust with guests and partners, entrepreneurial providers often see new or better ways to serve. With flexible funding support, they can prototype solutions and share what they learn with others (we enable this through LavaMaeX Connect).
LavaMaeX models this process by dedicating at least 10% of our own budget to service and equipment innovations that we roll out to our provider network. These projects can have unexpected results. For example, early in the pandemic, we realized unhoused people had no way to wash their hands, and we found that large-capacity handwashing stations were either back-ordered or too costly for community providers to rent. So we created a do-it-yourself handwashing station design and funded organizations to bring units to their communities.
The big surprise was Red Feather, which helps Navajo Nation and Hopi Nation residents make health and safety upgrades to their homes. The Navajo Nation had one of the highest COVID-19 infection rates early on, and up to 70,000 residents don't have running water in their homes. The nonprofit offered our handwashing stations on its social media channels and was blown away by the response, proving that the need for hygiene infrastructure stretches beyond unhoused people. Demand was so high that Red Feather crowdfunded more than $45,000 to build units and organized workshops across the Nation to teach community members to make their own. We granted the organization an additional $17,500 for training and supplies, and it's become our largest deployer, producing over 700 handwashing stations to date.
Money is necessary but not sufficient
With training and technical advice, motivated community leaders can wring impressive impact from small grants. LavaMaeX typically offers $10,000 to $20,000 grants to launch service or to sustain and scale operations. Just in the U.S., providers we've funded and trained have launched 26 shower programs in the past two and half years. These programs have provided 54,100 showers to 24,253 people. And those guests are not just getting clean; they're getting a rekindled sense of dignity and opportunity.
Grassroots initiatives can be powerful antidotes to desperation among some and detachment among many throughout a community. However, funders that want to activate that power need to think beyond efficiently dispensing small grants. While money is critical to getting off the ground, mentoring and connections to similar grassroots groups are critical to sustained success. These capacity-building strategies help providers persevere through challenges and avoid costly mistakes that wind up wasting grant money.
The evidence accumulated over more than two years of funding, training and supporting a provider community is clear: Grassroots impact comes from comprehensive support rooted in relationships and field expertise.
Kris Kepler is CEO of LavaMaeX, a nonprofit that teaches people around the world to bring mobile showers and other essential care services to the street, where unhoused people need them most.