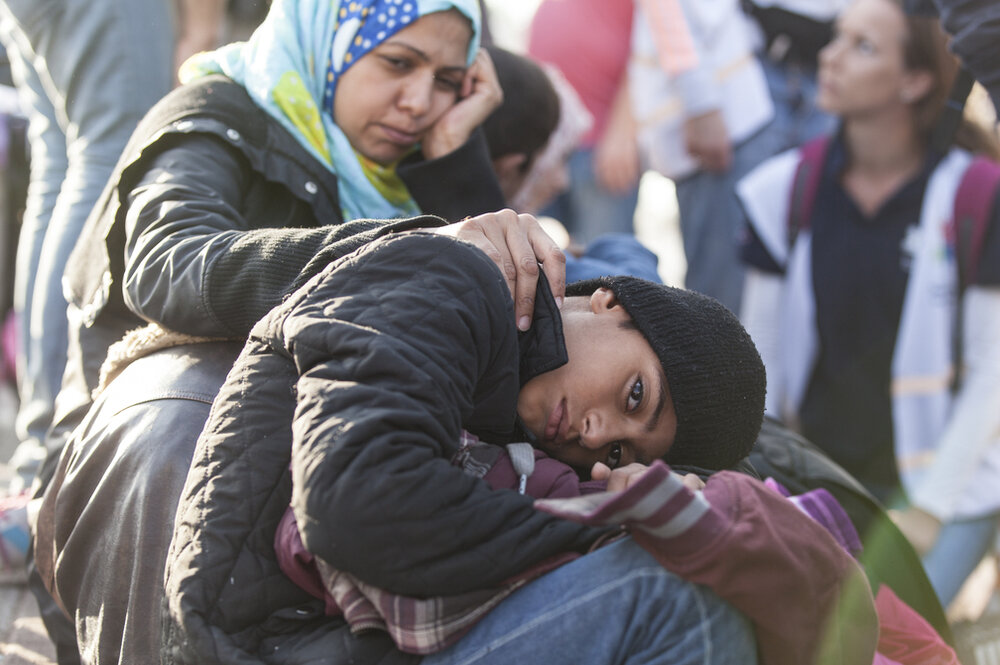 The Larsen Lam ICONIQ Impact Award, a new philanthropic competition to meet the longtime challenges of refugee integration, recently announced its inaugural class of five finalists. The award will channel $12 million over five years to one of the projects proposed to help displaced people find safe landings and secure futures.
With a focus on education and professional development, the award is the latest funding effort to address a global problem that shows no signs of abating. The U.N. Refugee Agency (UNRA) estimates that 79.5 million people were forcibly displaced by the end of 2019 as a result of conflict, persecution or natural disaster. Among them were 26 million refugees, 40% of whom were under the age of 18.
Here's how the partners behind the award shaped the program—which is hosted by MacArthur's spinoff prize platform Lever for Change—and how they hope to steer additional funding toward all five of the finalists.
The award
The Larsen Lam ICONIQ Impact Award was created in January 2020 to identify ways to transform the circumstances of refugees and the displaced. Funded by a $10 million commitment by philanthropists Chris Larsen and Lyna Lam and $2 million from the Sea Grape Foundation, the competition aims to tackle the immediate and long-term problems facing refugees, at scale.
The award was inspired by Lyna Lam, whose own knowledge and personal experiences helped narrow the objectives to professional and educational development. In the 1980s, Lam and her family spent three challenging years emigrating from Vietnam to the United States, including a stay at the Camp 82 refugee camp on the Vietnam-Thailand border.
"Conditions were difficult, and during this time, I missed out on years of education and skills building," Lam says. "When we arrived in our new home country, we didn't speak the language, which made school extremely difficult for my siblings and me, and also made working hard for my parents. I know firsthand how valuable educational tools and professional resources can be in the life of a refugee and I believe that even a small amount of help can make a huge difference—it certainly did for my family."
The partners
Lam's husband and philanthropic partner Chris Larsen is an angel investor who's best known for co-founding a number of Silicon Valley startups, including mortgage lender E-Loan, peer-to-peer lender Prosper, and Ripple Labs, which facilitates international payments through blockchain technology.
Besides financial resources, the award recipient will receive operational support from Rippleworks Foundation, a nonprofit co-founded by Larsen that takes a venture-centric approach to tackling social problems.
Lam is founder and executive director of Wat Khmer Kampuchea Krom, a Khmer Buddhist nonprofit that works with the Cambodian American community and other refugee groups. Lam's desire to fix broken lives is rooted in her understanding of the realities faced by displaced people and refugees, and a determination to find and fund meaningful solutions.
The Sea Grape Foundation is a family foundation that funds scientific discovery, gender equality, human rights and the environment. Sea Grape's website doesn't identify the donors behind the foundation, but other grantees listed include universities, hospitals, green NGOs and direct service organizations.
All are clients of ICONIQ Capital, a privately held investment firm that advises families and organizations. ICONIQ Impact, the company's philanthropic platform, will attempt to connect the four finalists who do not win the $12 million prize with other potential funders.
Lever for Change, an affiliate of the John D. and Catherine T. MacArthur Foundation that acts as a platform for philanthropic competitions, is managing the award, and worked with donors on the design, implementation and due diligence.
IP has previously covered Lever for Change's work on eight other competitions, including Kellogg's Racial Equity 2030 challenge. The Larsen Lam ICONIQ Impact Award is the first of an anticipated series of awards partnering with ICONIQ Impact.
Supporting refugees
The sponsors join a number of other philanthropists working in refugee funding who, like Lam, have firsthand knowledge of the challenges they face.
George Soros is perhaps the best-known donor in this space. Soros announced a $500 million investment in 2016 to support a group he says demonstrates a "collective failure" on the part of societal structures. The pledge to UNHRC and the International Rescue Committee was intended to complement Open Society's overall grantmaking, aimed largely at refugees landing in Europe.
One year prior, Hamdi Ulukaya, founder of Chobani yogurt, pledged to donate half his wealth to help Kurdish refugees and refugees around the globe, and helped establish the Tent Foundation to provide rapid response.
Refugees and the displaced are also priorities of the Frankel Family Foundation, which is currently transitioning to a strategy of expanding educational opportunities that will help refugees earn a living and "assert control over their lives."
Five finalists
The five finalists for the inaugural award approach the social and economic empowerment of refugees from different perspectives.
Funding for DREAMS for Refugees would scale a program to provide Ugandan and Ethiopian refugees with skills, networks and resources to become entrepreneurs. Program partners include Village Enterprise, Mercy Corps, and IDinsight.
Finalist Lutheran Immigration and Refugee Service (LIRS) has supported refugees coming to the U.S. for more than 80 years. Award funding would support a New American Cities program that creates the infrastructure to boost both new Americans and the cities they'll call home through social and economic empowerment and inclusion initiatives.
Asylum Access would support refugee leadership in partnership with a range of other refugee-led organizations, including StARS in Egypt and RAIC in Indonesia, by advancing capacity- and influence-building.
Southern New Hampshire University's Global Education Movement (GEM) empowers refugees by creating pathways to work and higher education. Funds would enable refugees in six countries to build skills, earn bachelor's degrees, and connect with career services.
And Talent Beyond Boundaries, which advocates for refugees through labor mobility, would use the resources to connect skill sets with international employment opportunities to improve financial security and self-sufficiency for workers and their families.
Final decisions
The inaugural recipient will be announced in March 2021. When the cycle comes to a close, Lever for Change will continue to work with the remaining finalists, who will become members of its Bold Solutions Network, which aims to help competition runners-up secure funding. The investors and partners say they hope that the ideas the award brought to light will find additional support.
Michael Anders, founding partner of ICONIQ Capital, says the finalists have "some of the most promising ideas to improve the present and future lives of refugees," and is optimistic that others "will be inspired to join Chris and Lyna so that we can fund all five of these critical organizations."
Lyna Lam echoes that sentiment. "Chris and I hope our passion for improving the lives of this critically underserved community encourages other philanthropists to get involved and advocate for these vital resources."