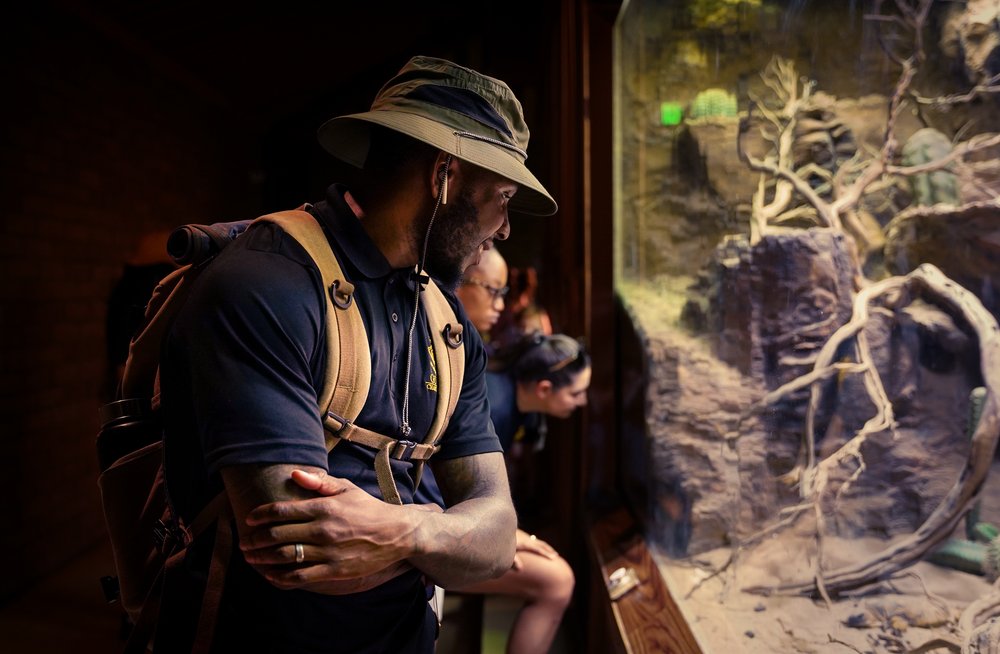 In our coverage of professional athletes' philanthropy, we've tracked a range of figures in the NFL, NBA and other leagues who've engaged in all sorts of giving. Their philanthropy is powered by stratospheric earnings among players, both from salary and sponsorship deals. Some athletes start with charity while they're still active on the field or court. Others wait until retirement. Consider Robert Golden, born in 1990 in the Central Valley of California. Golden played ball at Edison High School in Fresno and then at the University of Arizona, where he completed his degree. He went on to play seven years in the NFL, almost all of it with the Pittsburgh Steelers, before retiring in 2018.
As Golden tells me in a recent interview, he started engaging in issues that are important to him during his playing days, and has ramped up since retirement. The centerpiece of his work is Golden Charter Academy in Fresno, an environmentally focused school operating in partnership with the Chaffee Fresno Zoo. He co-founded and serves as president of the academy, which opened in August. Golden Charter serves more than 200 students, who visit the zoo for classroom lessons, as well as nearby lakes and outdoor areas.
In our conversation, I learned more about why he launched this unique charter, what his future plans are for the school, and what he's observing among his athlete peers engaging in philanthropy.
From the gridiron to the classroom
Born and raised in a part of California known for its annual raisin parade, Fresno still looms large for the footballer. Golden calls his west Fresno neighborhood one of the "roughest in the area," but credits education and sports for keeping him on solid ground. In his NFL days, he would come back to town to host free football clinics, health and fitness classes, diabetes awareness walks, and to put programs together for the Fresno Unified School District, of which he is a product.
"This was always just near and dear to who I am as a person, to be able to be an inspiration for children," he explains.
Golden took on leadership roles during his time with the Steelers, too. He was a player development representative, helping players who hadn't yet completed their degrees return to school during the offseason. The role also helped younger athletes learn how to budget their finances and how to make wise decisions on and off the field.
After a brief stint with the Kansas City Chiefs, Golden retired to focus his pursuits elsewhere. And with more bandwidth, ramping up his work advocating for children through education was a natural outgrowth.
On August 9, Golden opened Golden Charter Academy, which uses environmental education strategies and experiences to provide skills in language arts, mathematics, sciences and the humanities. The tuition-free school is unique, focusing on environmental education in partnership with a zoo.
The power of environmental education
Environmental education funding makes up only a sliver of overall environmental funding. Environmental Grantmakers Association and other research has found that funding in environmental education remains at only 4 to 5% of overall environmental funding. Still, this research also reveals the immense value of these programs.
One pre-K–12 environmental education program, Learning Tree, observed benefits including the encouragement of healthy lifestyles, and enhanced critical and creative thinking skills. Experts at Stanford University sorted through academic literature and analyzed 119 peer-reviewed studies published over two decades that measured the impacts of environmental education for K-12 students and came to similar conclusions.
Golden's own understanding about the value of the natural world deepened during his playing days. "One of the things I always did just to clear my mind living in Arizona throughout my career, was hiking and being out and about. It's always been something I gravitated to, but I really started to learn more about environmental education when I put the school together," he tells me.
A key component of Golden Charter Academy is fostering hands-on learning experiences. By encouraging environmental literacy, students are armed with the tools to improve the world around them, creating "little advocates," as Golden calls them.
He also hopes to bust open a model that has youth in underserved areas aspiring for long-shot careers in entertainment and sports. "They want to be entertainers, because that's what they see. But rarely do they get to learn what a biologist does, what an engineer does," Golden says.
He sees their partnership with the Fresno Chaffee Zoo as an opportunity to expose students to a range of paths, calling the zoo a kind of "small city" itself. "You have chefs that have to cook. You have engineers. You have veterinarians… all the people that keep the zoo going," Golden says.
"Meaning of school" and athlete philanthropy
In pandemic times, the school has tapped into place-based education—meaning school can happen in many settings, including physical spaces and virtually. What's more, when Golden Charter Academy students arrive at the zoo, it's not as if they're on a field trip; rather, they are actually in class. In the heart of the Central Valley, the school is also close to both the Pacific to the west and Yosemite National Park to the north and east.
Besides Golden's own funds, Golden Charter Academy is a public school that receives funding from the state. The school has applied for grants and engages in fundraising, as well.
Golden says every athlete has a "what's next" moment when their sports careers are coming to a close and he hopes to be a model for what players might do when they turn the page. "I just want to let them know that you created this platform for yourself by being an athlete. But life is so much bigger than sports," he says.
He's already pulled in other prominent athletes from the region. Born a few towns over in Clovis, California, Minnesota Vikings All-Pro linebacker Eric Kendricks—a 2020 Walter Payton NFL Man of the Year nominee—designated a $40,000 donation from the league to Golden Charter Academy. And Fresno-born former NBA swingman Quincy Pondexter has supported the academy, too.
Overall, Golden is excited that his peers and teammates are collaborating on philanthropy and believes that this is how they can achieve real impact in the communities where they got their start.
Away from his school, Golden continues to do an annual diabetes walk, having lost his father to the disease a few years ago. Golden's Believe and Achieve Camp, meanwhile, runs a football clinic at Fresno State University, mixing over 700 kids with around 25 NFL players. Golden says it's one of the biggest camps in California.
Ultimately, though, Golden is laser-focused on his school. In the next few years, he hopes to get a state-of-the-art facility built adjacent to the zoo so that its assets are even more accessible. "This is my harvest right there. This is my joy, and that's why I do it. And, I'm excited to continue to do this work for sure."