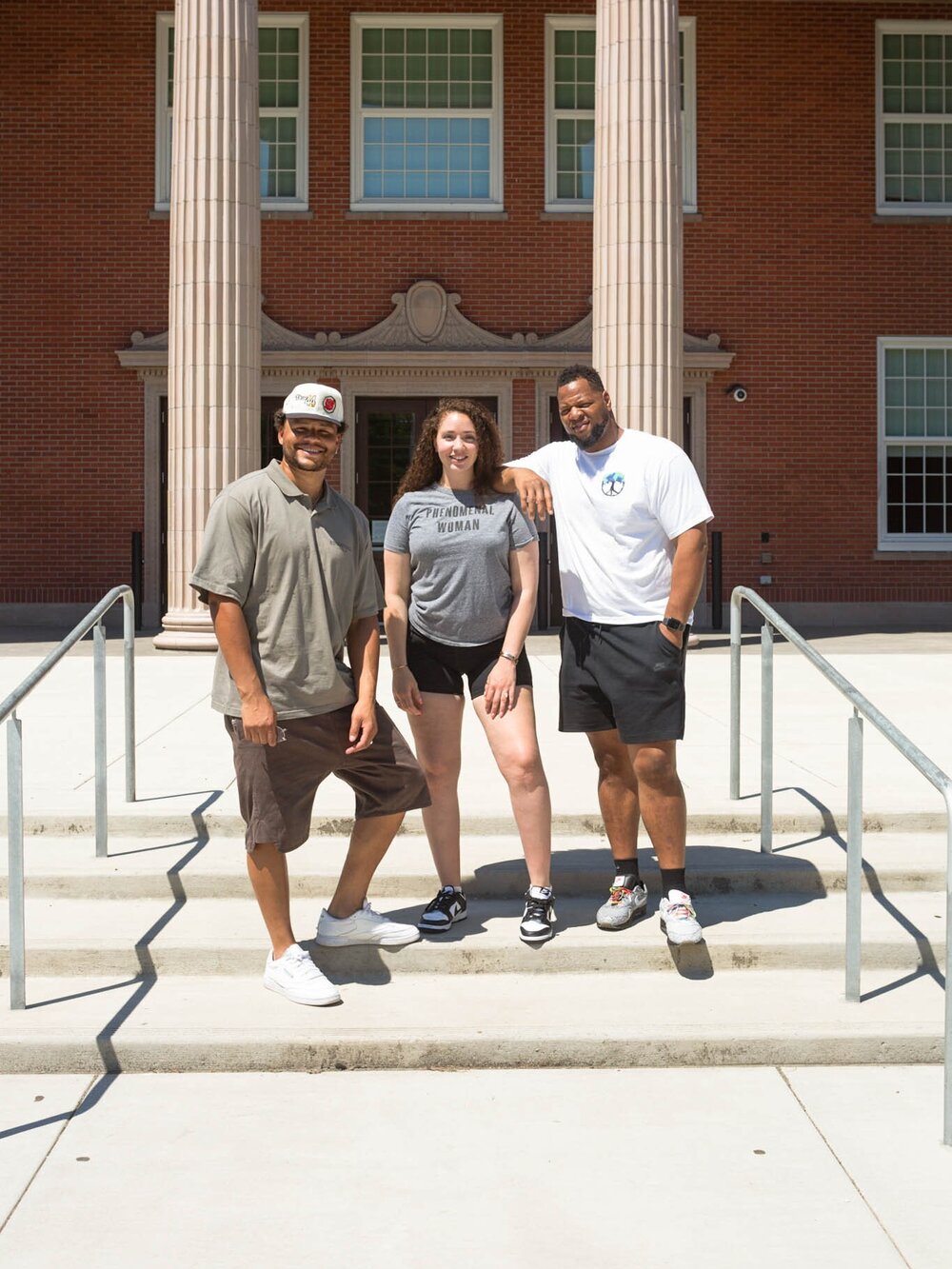 While the NFL might not be as well known for its social activism as the NBA, individual players across all major sports leagues are increasingly using their platforms to speak up about issues they're passionate about. Former NFL quarterback Colin Kaepernick's voice still has yet to be silenced. And he's backed up his words and activism with philanthropy via his Colin Kaepernick Foundation and Know Your Rights Camps, which work for the "liberation of Black and brown people."
This latest generation of athlete philanthropy is powered by stratospheric pay for top stars. Per the NFL's new collective bargaining agreement, starting this year, the players will get at least 48% of all league revenue. In 2018, the NFL made roughly $16 billion in revenue.
Often, athlete philanthropy is, appropriately, a team effort. That's the case for Tampa Bay Buccaneers defensive end Ndamukong Suh and Miami Dolphins outside linebacker Brennan Scarlett. Though both play for Florida teams, they call Portland, Oregon, home and train together during the offseason. And their respective foundations have put a spotlight on the city.
Ndamukong Suh, his wife Katya, and Scarlett recently partnered this summer with financial tech company Stash to launch Stash101 Summer School. The partnership, which involves the Suh Family Foundation and Scarlett's Big Yard Foundation, promotes financial literacy among middle school students in Portland Public Schools.
But what got these two NFL players interested in this space? What does their overall philanthropy look like and where is it headed? I recently connected with the athletes to find out.
A PDX beginning
Both standing tall at 6 foot 4, Suh, 34, and Scarlett, 28, call Portland, Oregon home. The son of a Jamaican mother and Cameroonian father, Suh credits hard work, his parents, and coaches for his success. Not only is he a star on the field, but off of it, as a rising investor. He's the founder of Generals Restaurant Group, and managing partner of House of Spears Management, an investment portfolio that includes Andreessen Horowitz's Cultural Leadership Fund. Suh became involved in business more than a decade ago, and has been involved in philanthropy for several years.
"I've always believed heavily that they [my family] paid it forward… so it's kind of my focus to do the same, as well as being able to have a great platform to do that because of sports," Suh explains.
Scarlett also speaks of the strong support system he grew up with. He earned a bachelor's degree in business from UC Berkeley and a master's degree in management science and engineering from Stanford University—all the while playing as a defensive star on the field. A few years ago, he also got into real estate investing.
Founded in the early 2010s, the Suh Family Foundation focuses on three key pillars: education, health and wellness, and empowerment. Suh's mother Bernadette was a teacher, and one of his early big philanthropic moves was a $2.5 million donation to his alma mater University of Nebraska-Lincoln, supporting a strength and conditioning program and creating an endowed scholarship.
Big Yard Foundation, meanwhile, supports initiatives in education, creativity and wellness development. It is primarily focused on at-risk communities and neighborhoods, with an eye toward Portland.
Financial literacy
Early in the summer, the Suhs and Scarlett worked with financial tech company Stash to launch Stash101 Summer School, serving 160 middle school students in Portland Public Schools. The curriculum covered such topics as checking and savings accounts, building a budget, the stock market and diversification, and included interactive games.
The program paired Stash101, a free education technology tool, with a weekly financial education course aimed at expanding students' understanding of wealth-building and healthy financial habits. Students also learned about investing from the two NFL football stars themselves.
Scarlett and Suh felt that their hometown was the best place to launch Stash101, in the very same school systems that they're so familiar with. Scarlett said that he wasn't exposed to the fundamental principles of financial literacy until college, after receiving his first paycheck. And both seem dedicated to unraveling these systemic challenges, first in their own backyards, and then growing beyond that.
"I think the younger, the better to start kind of changing these kids' perspective on money and having a baseline of finances and how they work," Scarlett adds.
In terms of impact, Stash101 students took a baseline test before they began the program and another test when the curriculum ended. Scarlett reports that after the program, a majority of students reported a higher comfort level than when they first started.
Two young foundations
The Suh Family Foundation also recently engaged in a backpack giveback for Portland Public School middle and high school students. The kits included backpacks, toothbrushes and general school supplies to make sure students were ready for a new school year—especially on the heels of an unprecedented year and a half. Katya Suh, who runs the day to day at the foundation, explains that education is a centerpiece of their work. "Education is not only big in our families individually, but also in the family we're building now," says the mother of young twin boys.
Apart from Katya and Ndamukong, the Suh Family Foundation also leans on its corporate partnerships, including with vitamins and supplements company Thorne, which helps the foundation do outreach. The foundation also works with Nike.
Big Yard Foundation draws its name from Scarlett's Jamaican-born father, whose local community was affectionately known as Big Yard—pronounced "Big Yawd" on the island. One of its events, Books and Ballers, promotes physical wellness, creativity and literacy. Scarlett was a star athlete at Central Catholic High School, and continues to be involved with the school.
It's very much a family affair. The foundation's executive director is his mother; Scarlett is president, and his brother, sister and father also are involved. Because Big Yard goes into the community, it also relies on community leaders to execute its mission. "It's been really positive to have it work like that… Not only are we able to put on this event, for example, empowering black businesses… but the process of bringing that together is creating community itself."
On Juneteenth, the Big Yard Foundation also hosted a Celebration of Black Lives event in Portland, yet another example of NFL athletes using their influence and power to champion the causes they care about.
Both Suh and Scarlett say that they are proud of the way that current and retired players are giving back to the underserved and underprivileged communities where many got their start. "It wasn't just off their own strength. It took a lot of support," Scarlett adds.