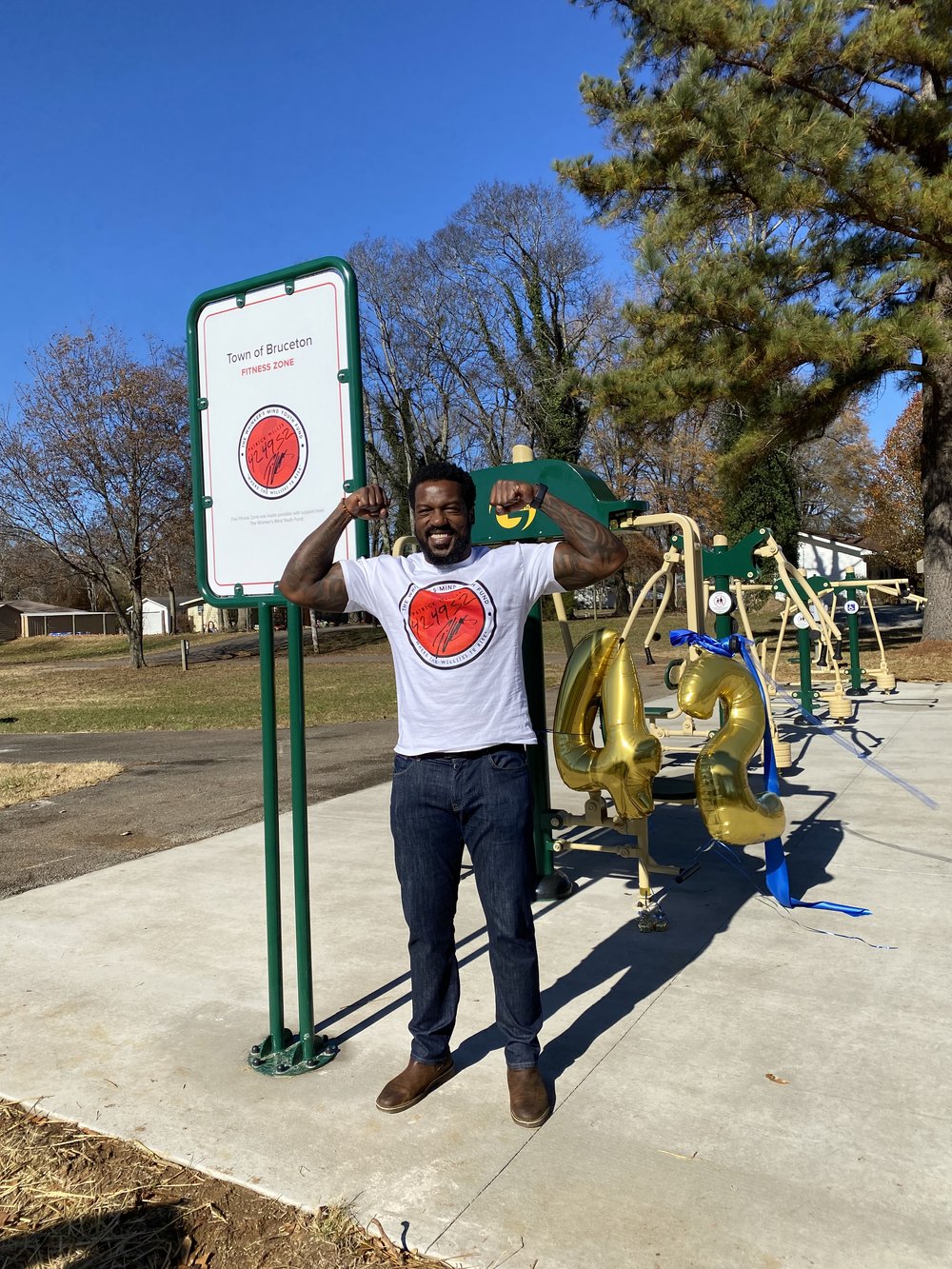 About 100 miles west of Nashville lies Bruceton, Tennessee, population approximately 1,300. The town was once known for its textile and railroad economy. It is also the birthplace of Patrick Willis, 36, who played college ball at the University of Mississippi and then spent his entire career out West as a San Francisco 49ers linebacker before retiring in 2015. His accolades are many: seven-time Pro Bowler, five-time All-Pro team and 2007 Defensive Rookie of the Year.
He was also just inducted into the 49ers Hall of Fame. Inside Philanthropy caught up with him as he phoned in from his trusted barber shop, waiting to get a haircut for the big day. In our conversation, I learned more about Willis' celebrated career in the NFL, his turn toward philanthropy focused on youth and youth fitness, and how he sees his peers using their voices to advocate for causes dear to them. Here are some excerpts from that discussion, which have been edited for clarity and length.
Tell me about growing up in Bruceton and how you turned to football.
So I was born and raised in a very rural town in Tennessee. K-12, we all went to one school. Oftentimes, I like to think of it as a diamond in the rough if you're able to get out. I feel like I was fortunate I was able to go to college and have a career in the NFL. It's been a journey and process so far. And here I am at 36, exploring the entrepreneurial world along with humanitarian and philanthropy efforts.
Growing up in a rural town in the South, football is big. They like to say it's big in Texas. But it's big all over the South. In my town, we only had three sports—baseball, basketball and football. If you go back there, you'll see there's not much to do but play sports, hunt, fish and try to stay out of trouble. Growing up, me and my cousins just went outside and played. It was fun, but also a place to unleash and express sides of me I couldn't anywhere else. You could be a superhero, but not get in trouble for it. To me, that was everything. Later, I learned that they'll pay you to make a living doing this.
What were some of your early experiences in philanthropy? Was it something you were doing during your playing days, or was it something you planned on waiting for until retirement?
Well, throughout my time with the 49ers, I got to see the work of the 49ers Foundation [since 1991, the organization has invested $50 million into historically underserved communities to empower youth]. I did events and tried to bring out some of my teammates. There was a tradition within the 49ers linebackers called the Linebacker Toy Giveaway.
I don't like to use the word "less fortunate," but I didn't have a whole lot growing up. So I knew how it felt when someone would show up for you. There was a nonprofit organization back home called Angel Tree (part of Salvation Army) which would provide snacks and food and Thanksgiving baskets. And I always told myself that one day, I wanted to be able to give that same feeling to someone else. So that's why I got involved with the toy giveaway, not just giving gifts like 49ers stuffed animals and pajamas, but also spending time with kids at hospitals and getting to know them a bit over the holidays.
I also was involved with the Trust Your Power initiative through Duracell. Everyone outside of you is a connection. But you ultimately have the power inside to manifest what you want in your life. It takes dedication, consistency and a lot of power. So the Duracell commercial and Trust Your Power was advancing this message.
Still, I was super-focused on football. I told myself I would do a little bit here and there. But when I was finished, I said I would love to dedicate more of my time to this.
What is the Whinker's Mind Youth Fund, and why did you launch it?
That recently came about as part of Whinker's Mind LLC, my investments and business entity, and Whinker's Mind Youth Fund, my charity. Whinker's Mind Youth Fund has a fiscal partnership with Player's Philanthropy Fund. I founded the fund to promote self-discovery and help others rise to their power—emotionally, physically and intellectually. Anything in life starts with you.
One focus is on physical fitness. Growing up, I was kind of made fun of. I wasn't what you see here now, with a few muscles here and there. I dealt with being told I was too chubby. All the body shaming. I told myself, if it was meant to be, it's up to me. So I started doing push ups and sit ups. Once you start taking care of your physical body, it spreads to other things.
I donated playground equipment to my former high school when I was back in Bruceton a couple of weeks ago. I also created the PWilly 32 Fitness Zone at Bruceton City Park. As a kid, I think it's important to have a space where you can let loose. There were times in the classroom where I didn't feel the absolute best. But when I got to recess and the playground, I felt it was the best place to be. At one point, I actually thought about being a PE teacher.
What do you find that some of your other NFL peers are interested in when it comes to philanthropy and beyond?
One of the things we most definitely all have in common is that we feel like we have to give back to those who are trying to come up from similar situations. We also really want to take care of our bodies physically and mentally. I know that sometimes, retired athletes don't get the best rap. So I know that we're trying to make sure we're mentally and physically checking in with each other and making sure we're all well.
What about some of your other entrepreneurial work?
So I have a few entrepreneurial endeavors that I'm a brand ambassador and a light investor in. One is CoachTube, an online coaching platform. I was trying to think about how I could give back information. And at the time, I wasn't really set on being on the field every day anymore. So I spoke to a friend and he introduced me. The founder really spoke to me about being raised by a single mother and the challenge of not being able to afford quality coaches. So he created a platform to help those who need some extra assistance. This is something that would've been very beneficial to me growing up, too. So far it's doing very well. Especially during the pandemic.
What is your biggest hope for your philanthropy?
It's about your legacy. It becomes bigger than you as a person. When I was playing, my mantra was "humble but hungry." Hopefully, doing some of these things, and the things I've yet to do, someone will have that memory. And pass along a good deed to someone else.