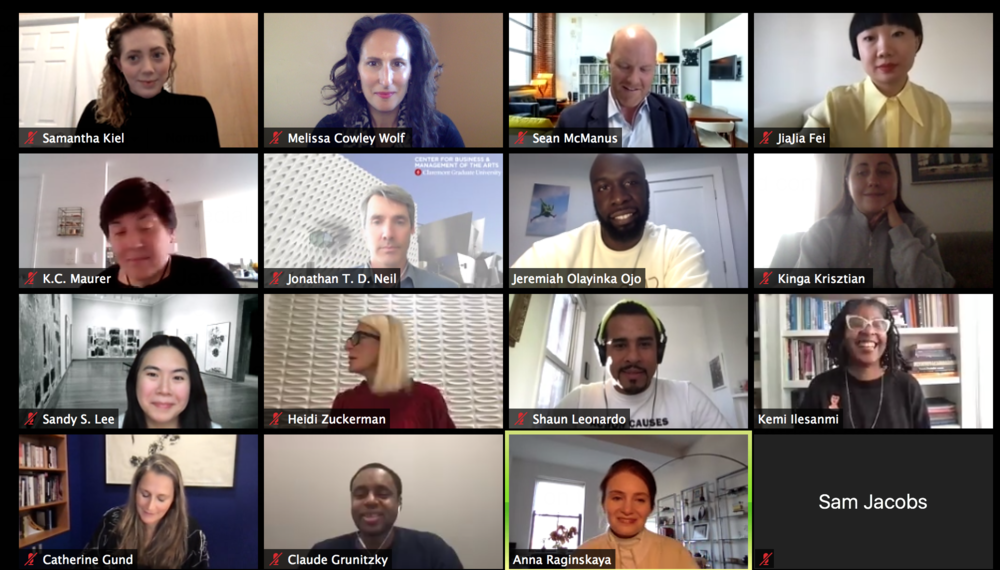 In 2018, the Knight Foundation and business advisory firm M+D launched the Art Funders Forum (AFF) to increase private support for the arts, with an emphasis on young, socially conscious philanthropists who gravitate toward a more impact-oriented form of giving.
Compelling millennial techies or Generation X heirs on the receiving end of the greatest intergenerational wealth transfer in history to cut checks to museums was a tall order before the events of 2020 centered donors' attention on global health, food insecurity and racial justice. Now, the task seems especially daunting—a recent survey from Eagle Hill Consulting found that more than one-third of Americans plan to cut back on their charitable giving or not give at all in 2021.
It's against this backdrop that the AFF convened its 2020 Annual Summit last week, bringing together an impressive lineup of speakers to discuss how cultural communities can invest in new models of philanthropy, boost engagement and financial support for the arts, and reimagine the sector to appeal to a unique and affluent class of rising donors.
I had the pleasure of sitting in on the summit and it's well worth watching in its entirety here. For the sake of brevity, though, I'll highlight a handful of conclusions regarding how fundraisers in the arts and culture space can best engage these emerging philanthropists. But first, let's take a closer look at what this younger generation of donors is like, based on the AFF's growing body of research.
"The social justice issue is huge"
Many heirs who came of age during the Great Recession are skeptical of market-based capitalism and are more attuned to issues like inequality than their predecessors. "The social justice issue is huge," AFF founder Sean McManus told me in a previous interview. "It's one thing to experience traditional works of art, but what are institutions doing to drive social change?"
Back in March, when the pandemic was upending the arts sector, McManus and Melissa Cowley Wolf, AFF director and founder of MCW Projects, told me they were seeing "operas and ballets streaming into homes and museum collections from around the world now available to a wider audience with lower barriers to entry." The development created "an entirely new population to whom artists and organizations can make their case for support."
The crisis also provided organizations with a unique opportunity to double down on advocacy. "Right now, we are seeing a demand for the arts like never before," the pair said. "Committed arts donors and entities alike should leverage this shift in attitude, becoming spokespeople for the arts."
Nine months later, Wolf encourages arts leaders to see themselves as entrepreneurs essential to global progress, make the arts more accessible to audiences, seek out common ground with tech donors and better define and communicate social impact. What did some of the AFF panelists think?
Support work "relevant to the moment"
The summit's first speaker, Kemi Ilesanmi is the executive director of the Laundromat Project (LP), a Brooklyn-based arts organization that advances artists and neighbors as change agents in their own communities. It has received philanthropic support from the Andy Warhol Foundation for the Visual Arts, the Ford Foundation and the Andrew W. Mellon Foundation, among many other funders.
A few weeks before COVID-19 struck, the LP selected a storefront space located in Brooklyn's Bed-Stuy neighborhood as its new home. The relocation will unify the group's activities under the same roof for the first time since its inception 15 years ago. While 2020 was certainly a "difficult year," Ilesanmi said, the Laundromat Project was able to retain staff, keep its major programs online, and even ramp up support for artists.
The organization has been navigating the intersection between the arts and issues like housing justice, food insecurity and wellness for years. For Ilesanmi, the key to the LP's work—and to engaging equity-oriented funders—is to show that "the work we do is relevant to the moment."
For example, pre-COVID, the LP funded a project connecting Filipino artists to businesses in the Queens neighborhood of Little Manila. When the pandemic struck, the artists regrouped and raised money to buy a series of Sunday night dinners for Filipino healthcare workers at Queens' Elmhurst Hospital and other neighboring facilities.
"Each of those dinners—which is a way of taking care of the people that are taking care of us—also included an art project," Ilesanmi said. "People should be invited to be in touch with their creativity—even in crisis."
Create the space for accessibility
"Accessibility is really at the root of the most significant issue I see in the future of arts funding, which is the reality that our older and more traditional donors are aging, and we can no longer rely on this past generation of Rockefellers and Carnegies," said the summit's third speaker, JiaJia Fei.
Fei worked for six years in the digital marketing department of the Guggenheim before joining the Jewish Museum as its first director of digital in early 2016. In early January, she left the museum to launch her own digital media agency, First Digital Agency for Art.
"The next generation of philanthropists—like it or not—are people in tech," she said. "And we all know the language of art can be alienating and feel very contrived, privileged, elitist—let's not forget that a year ago, a banana sold for $12,000 in Miami—and so for the tech world to care about investing in the future of culture, they need to understand its value to society."
At the same time, directors are coming to terms with the limitations of the virtual museum-going experience. "We can't completely replace the experience of looking at art," Fei said. This is actually a good thing, as it means it's highly unlikely we'll see a platform put museums out of business the way Netflix and Spotify have imperiled movie theaters and shuttered record stores. "That app does not exist for the art world," Fei said.
But there's still an opportunity for museums to stake out productive middle ground. "People are realizing we can continue to do a lot of what we do online" once the crisis passes, Fei said, citing "digital art and art designed for the limitations of what we're experiencing." By leveraging "the social capacity so viewers can exchange ideas and interact online," this medium makes art more accessible and inclusive—music to the ears of equity-minded funders concerned about reaching previously underserved demographics. "It's no longer a question of replicating as it is translation," she said.
Cultivate art that advances "a political end"
Sam Jacobs is co-director of JG3 Collaborative, a family philanthropy that funds grassroots power-building and social justice initiatives. He's also a member of Resource Generation, a group that organizes young people with wealth to redistribute their money to grassroots social justice organizations led by and for people of color.
Jacobs' trajectory as a philanthropist maps closely to the psychographic profile sketched out by AFF research. He admittedly grew up with privilege and was in high school during the economic downturn of 2007-2009. He kept tabs on the Occupy movement that followed, attended college, and was deeply affected by the death of Michael Brown. "I was being politicized by movements but didn't have a place to fit in," he said, until five years ago, when he joined Resource Generation.
Jacobs and his peers' perception of arts and culture "looks different than my grandparents, or my parents," he said. "For me and for my peers, we think a lot about cultural organizing—how can we use art to bring people together toward a certain kind of political end?"
He cited the work of the New York City-based Worth Rises, where he serves on the board. The nonprofit organization defines its mission as "dedicated to dismantling the prison industry and ending the exploitation of those it touches." Its "Capitalizing on Justice" program exhibits work by incarcerated artists to call attention to profiteering in the prison industry. Along with other advocacy groups, the organization successfully lobbied for Congress to include a provision in the CARES Act authorizing the Department of Justice to make phone calls free for federal prisoners and their families.
In short, Jacobs' vision of arts philanthropy is a far cry from his predecessors' more passive "old world" model. Funding for programs like "Capitalizing on Justice" requires the arts and culture "to bring people together, but it also requires struggle, conversation, politics, and most of all, collective action," he said. "There's a real opportunity to team up with partners in the social sector, and instead of competing for the crumbs that fall off the plate of the uber-wealthy, to get together and organize, which could shift us away from depending on the largesse of mega-donors."
In 2021, AFF will launch a new program covering trends in next-generation funding across the cultural sector with examples of how funders are reorienting around social justice and how cultural institutions are implementing solutions. AFF will also launch an advocacy campaign targeted at young philanthropists, particularly in the tech sector, who, to quote Wolf, "are skeptical about the value of the arts to bring society and communities together."