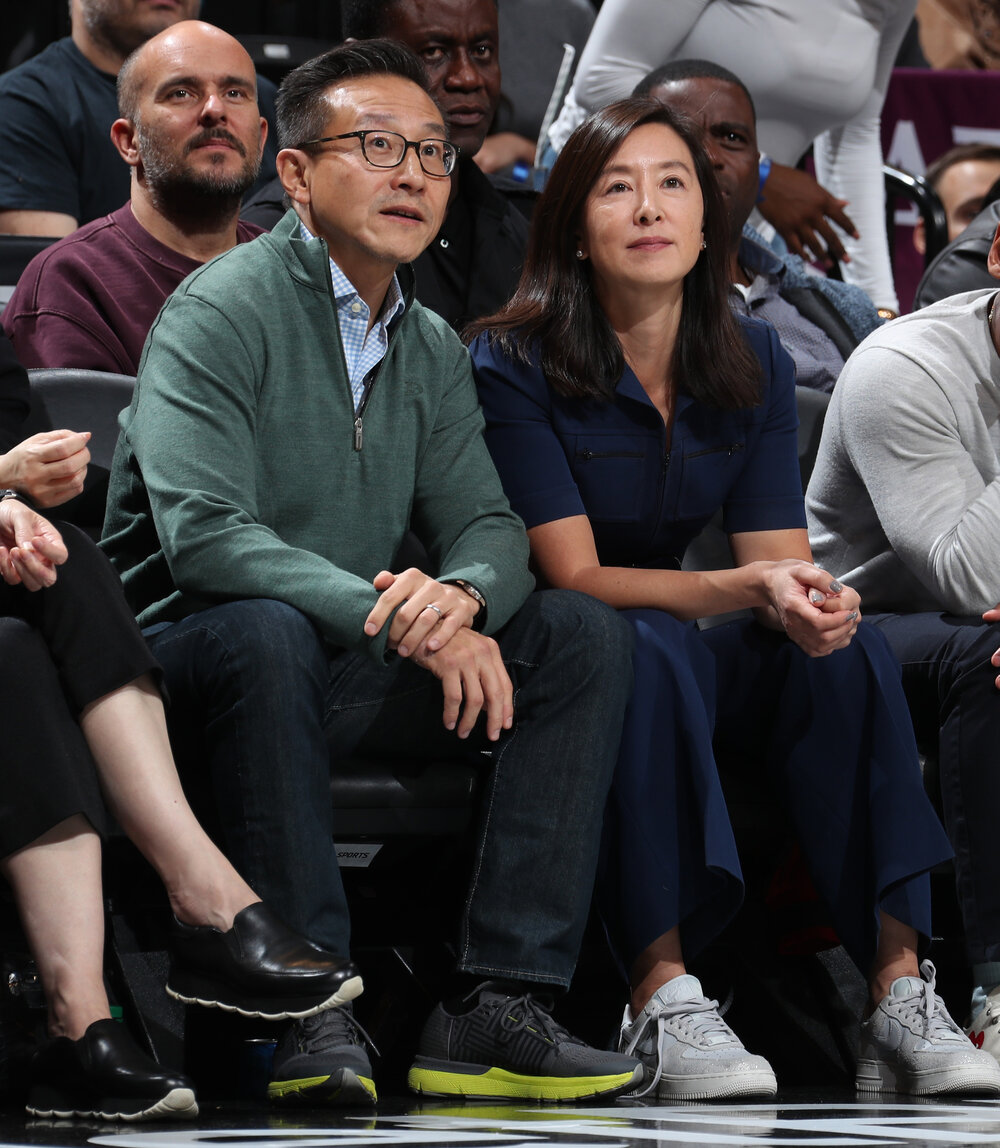 Launched last decade, the low-profile Joe and Clara Tsai Foundation channels the fortune of billionaire couple Joe and Clara Wu Tsai, worth more than $11 billion as of this writing. Born in Taiwan, Joseph Tsai is vice chairman and co-founder of Chinese multinational titan Alibaba Group, and is its second-largest individual shareholder after Jack Ma.
A few years ago, the Tsais purchased the Brooklyn Nets, who play their home games at Barclays Center—a new sports and entertainment hub that has come to characterize the New York City borough's renaissance. While injuries prevented the Nets from making it all the way to the 2021 NBA Finals as expected, they should be a fixture in the Eastern Conference in the coming years.
On the philanthropy front, the Taiwanese-American couple, only in their 50s, are dedicated science donors who have also recently emerged as stalwart supporters of social justice causes.
The Tsais launched the Social Justice Fund through their foundation last year with a $50 million, 10-year commitment focused on racial justice and economic mobility in Brooklyn. They are also heavily involved with the criminal justice organization REFORM Alliance, of which Clara Wu Tsai is a founding partner. Other partners at REFORM Alliance include Jay-Z, Van Jones, Laura Arnold and Robert F. Smith. The Tsais also back the Black Voices for Black Justice Fund I wrote about last year.
Recently, the Tsais' Social Justice Fund announced a new loan program, EXCELerate, with an initial $2.5 million to help Brooklyn's BIPOC small business owners in the wake of a turbulent year.
These loans will not require collateral or guarantors and will focus on Black business owners whose credit scores were negatively impacted during the pandemic. Loan options range from micro-sized "rapid recovery" loans with zero percent interest up to $15,000, to "restart" loans with 2% interest up to $100,000.
But while the Tsais are active in this space now, Clara Wu Tsai told me the evolution to this point took time. In our conversation, I was able to get a fuller picture of the couple's evolving philanthropy, how their low-profile foundation operates, and where they plan on heading.
Starting organically
Born in Lawrence, Kansas, Clara Wu Tsai received her bachelor's and master's degrees from Stanford University and an MBA from Harvard Business School. Her father, De-Min Wu, is a prominent econometrician and professor. The De-Min and Chin-Sha Wu Award for University of Kansas economics professors bears the name of her parents.
"I think everybody's philanthropy sort of starts organically with the things that they're interested in. I think you first start by giving to alma maters and places that supported you. And then later, you develop your own passions, and places where you think you're uniquely poised to add particular value," Wu Tsai told me.
For these reasons, she was initially drawn toward funding basic science research at schools with a personal connection to the family. Today, Wu Tsai remains bullish about that work because pioneering research isn't always well-funded. The couple launched the Wu Tsai Neurosciences Institute at Stanford University, and also created the Wu Tsai Institute at Yale University—Joe's alma mater—which focuses on the study of human cognition. In the next month, Wu Tsai plans to announce a research collaboration among several universities, but would not yet go into full detail.
"The major goal of our philanthropy has been in science," Wu Tsai said.
More recently, the Tsais have broadened their giving focus, adding in new pillars. One area is what Wu Tsai calls economic mobility, which she says has deep personal relevance since her parents immigrated from Taiwan. Wu Tsai herself grew up with modest means in a family that put a high premium on education.
"Economic opportunity is really what drew my parents to the United States from Taiwan. They were also really enchanted by the democratic ideals of freedom and justice for all… and I grew up believing that is what this country stands for," Wu Tsai said.
Over time, however, Wu Tsai began to learn how deep economic inequity cuts in the U.S., and was inspired to act.
A new emphasis on social justice
When Joe and Clara Wu Tsai acquired the Brooklyn Nets and the WNBA's New York Liberty, they began to deepen their roots in the city and focus on equity work. Keep in mind that around three quarters of NBA players are Black and the league at large is known for being relatively progressive among the major sports leagues.
The recently minted NBA Foundation has pledged an initial $300 million over the next decade to spur economic growth in the Black community. Some of the NBA's brightest stars, including outspoken Brooklyn Net Kyrie Irving, have been wading into the realm of social justice and charitable causes for years.
"When George Floyd was murdered, it just became a great opportunity to put some of my principles and values down on paper," Wu Tsai said. "We wrote a social justice commitment statement and a five-point plan that has kind of been the framework."
In April, the Tsais tapped Gregg Bishop to lead their Social Justice Fund and EXCELerate Loan Program. Bishop is a Black Harvard Kennedy School graduate who served as commissioner of the NYC Department of Small Business Services (SBS) and is the interim executive director of Coro New York. Wu Tsai and Bishop went on to meet with multiple stakeholders to get a sense of needs on the ground. A common theme was getting support to BIPOC-led businesses in Brooklyn, many of which were severely impacted by the pandemic.
The goals of EXCELerate, which emerged from that process, are two-fold: to address the lack of capital for Black-owned businesses and to challenge systemic bias.
About 54% of Black Americans report having no credit or a poor-to-fair credit score, which is considered to be any score below 640, according to a recent survey of 5,000 U.S. adults by Credit Sesame. About 37% of white Americans, meanwhile, report having bad or no credit, and only 18% of Asian Americans report similar credit numbers.
During his longtime work in city government under Mayors Bloomberg and de Blasio, Bishop helped spearhead an initiative to support Black entrepreneurs and saw the challenges of lack of access to capital firsthand.
"We just celebrated Juneteenth, we celebrated Black Wall Street. The primary way you generate wealth is through real estate," Bishop said. "And because of redlining, because of a number of other things that have really robbed the Black community from generational wealth, whenever a Black entrepreneur starts a business, it's usually bootstrapping… it's usually, 'I'm going to max out my credit card.'"
Beyond credit
Notably, EXCELerate is a "character-based fund," and uses the success of a business prior to the start of the pandemic as a primary metric. It also requires a character reference from someone in the community.
The program itself will provide wraparound resources, including providing e-commerce and marketing assistance. And in a kind of multiplier effect, the hope is that successful businesses will then serve as character references for new prospective recipients.
So far, enterprises pulled in by EXCELerate have run the gamut, from restaurants trying to expand their delivery radius—always critical in the Big Apple—to a Black-owned yoga studio and an event space. EXCELerate has also partnered with the Brooklyn Chamber of Commerce, which Bishop says isn't just a typical old boy's club, but an institution that keeps its ears to the ground.
"[Brooklyn Chamber of Commerce] have a team in East New York, in Brownsville, in Canarsie… these are all areas in Brooklyn that tend not to have the resources that they need readily available. It's really grassroots. One-on-one. They have over 6,000 businesses in their database," Bishop said, adding that applying businesses must be BIPOC-led. Certain entrepreneurs with higher credit scores will be diverted to other programs to ensure the fund's resources go to those most in need.
Looking ahead
Clara Wu Tsai emphasized that this hyperlocal approach is the best way to get her social justice work off the ground. And she noted that Brooklyn itself, home to rich diversity and a range of immigrant populations, is the perfect place to pilot this work, which she hopes in time will be taken national.
Apart from social justice and science research, the Tsais have also launched the Paul Tsai China Center at Yale. It bears the name of Joseph Tsai's father, the first-ever graduate student from Taiwan to receive a J.D. from Yale Law School. The center focuses on fostering stronger relations between China and the United States.
Besides Joseph and Clara Wu Tsai, the family foundation sports a small board and staff, including a senior science advisor, Social Justice Fund Executive Director Gregg Bishop, and a staff member who works strategy and communications.
As far as the tension between maintaining a lean structure or growing, Wu Tsai is trying to avoid cumbersome bureaucracy while still making significant impact. "I like being close to the work. But you really need people to get work done," Wu Tsai said.