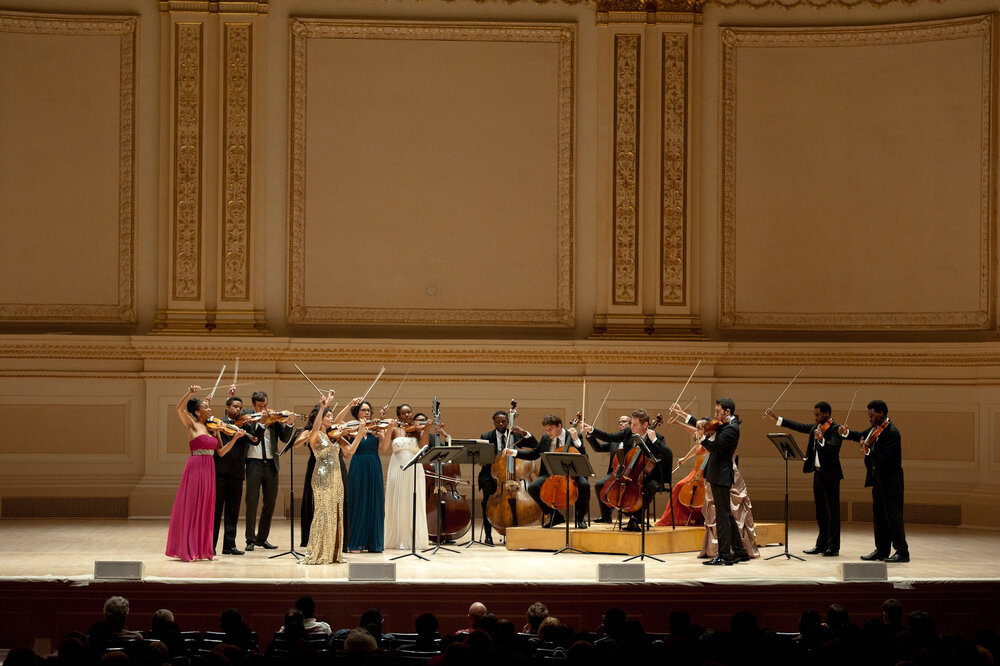 According to the most recent statistics available in a 2016 report released by the League of American Orchestras, the proportion of Asian and Pacific Islander orchestra musicians increased from 5.3% in 2002 to just over 9% in 2014. Hispanic and Latino representation rose from 1.8% to 2.5%, while the percentage of African American musicians hovered at around 1.8%. Between 2010 and 2016, Black conductors and music directors accounted for just 2% to 6% of the field.
These statistics pose two questions: Why is American classical music so white? And what can funders do about it?
Afa Dworkin, president and artistic director of the Detroit-based Sphinx Organization, has been thinking about these questions for the better part of two decades. Sphinx is a social justice organization dedicated to transforming lives through the power of diversity in the arts, and classical music in particular. It receives support from major arts funders, awards grants to musicians and orchestras, and helps organizations implement DEI initiatives and boost representation.
"We're not just a music school or competition or summer program or a foundation—we're everything," Dworkin told me. "We're trying to address the important areas and focus points and work with everybody to tackle this problem at every possible angle."
As for classical music's longstanding diversity problem, Dworkin told me it's not a question of talent or readiness, as much as a mindset. "Until we do away with this misconception that every time we talk about diversity, we have to lower our artistic standards, we're not going to move forward in a sustained way. I think that's true for philanthropic institutions and the practitioners."
"We had to disrupt the balance"
Sphinx was founded in 1997 by Afa Dworkin's husband, violinist Aaron P. Dworkin, with the goal of addressing the underrepresentation of people of color in classical music. Afa assumed her position in 2015 after Aaron stepped down as president to become dean of the University of Michigan's School of Music, Theater and Dance. She was also one of Sphinx's first employees and the architect of many of the organization's initiatives.
"As I've often said to our students and our alumni, there was no such terminology like 'diversity and inclusion' when we launched," Dworkin told me. "We had to disrupt the misbalance and misrepresentation of people of color in classical music." It wasn't always easy.
"When Sphinx was in its infancy, it was difficult to prove our case and really get into partnerships with particularly larger philanthropic institutions because, frankly, it was taking a chance on a very young concept that did not have proof or precedent," she said.
Making progress
By its third year,  Sphinx converted what Dworkin called "early believers," although it took more time to further develop these relationships. "I think the biggest contributor to the growth and resonance among members of the community, especially larger foundations, was the evidence in the work that we were doing that the talent was so very much out there."
Fast-forward two decades: The field has advanced considerably since Sphinx's launch. "Not only is there terminology for racial equity and inclusion in the funding world," Dworkin said, "but the volume of the conversation is at a different decibel level."
Sphinx had one program partner back in 1997; now it has more than 150. It had no music school partners besides the University of Michigan. Now, it has over 20. It has launched six successful classical ensembles composed of Black and Latinx artists, commissioned nearly 30 works by composers of color, and boasts an alumni network of over 800 musicians.
But as the statistics in the opening paragraph underscore that in some ways, Sphinx's work is only beginning. "There's still a paucity of soloists who are being engaged for the future of orchestras," Dworkin said. Moreover, performing arts houses "don't do enough, in my mind, by way of prioritizing music by non-white artists and composers," nor have institutions made significant progress in cultivating leaders or board members of color.
Sphinx, Dworkin told me, "is looking to make a difference on all of those fronts."
Leader, instigator, catalyst
Sphinx's four program areas—Education and Access, Artist Development, Performing Artists, and Arts Leadership—form a pipeline that develops and supports diversity and inclusion in classical music in areas like music education, performance, composition, community engagement and administrative leadership. Sphinx's programs reach more than 100,000 students and artists, as well as live and broadcast audiences of more than 2 million annually.
Sphinx boasts a slew of innovative programs, but Dworkin highlighted the following three initiatives during our chat:
Sphinx LEAD is a two-year leadership program designed to evolve the industry landscape by empowering the next generation of executive leaders. The initiative receives support from Robert F. Smith's Fund II Foundation, Benard L. Maas Foundation and its lead funder, the Knight Foundation. "Without Knight, we couldn't do LEAD," Dworkin said.
Sphinx TANK invites emerging arts and cultural entrepreneurs of color to pitch their projects to a panel of experts who award a $25,000 "Sphinx Tank Grant" to the winning entrepreneur.
Sphinx CONNECT is a national convening to bring together and celebrate diverse arts leadership. The initiative receives support from Fund II Foundation, Ford Foundation and Andrew W. Mellon Foundation. "The field will not survive unless it is diverse," Dworkin told me, "and we are not going to reach the level of sustainability and excellence unless we are diverse."
These programs speak to Dworkin's contention that Sphinx can't achieve change at the system level on its own. "We see ourselves as a leader and instigator and catalyst, but we also recognize that our work will be that much more sustainable if it's done in partnership, and the philanthropic world is an important sub-family of those partnerships."
Getting and giving
"We see our work with the philanthropic community as significant and essential, and its depth has grown incredibly over the years," Dworkin said.
Mellon, for example, provided funding for a 90-city tour of Sphinx alumni beginning in 2007. The tour went on to perform for over 100,000 people. "Every time an all-Black and brown orchestra comes up on stage and plays at a high level and presents a program of living composers of color where the artistic level is so compelling, I think it changes a great deal of minds and shifts paradigms," Dworkin said.
Sphinx is the lead program and fiscal administrator for the League of American Orchestra's (LAO) National Alliance for Audition Support, which has provided over 220 Black and Latinx musicians with a customized combination of mentoring, audition preparation, financial support and audition previews since 2018.
The alliance is supported by a four-year, $1.8 million grant from Mellon, as well as contributions from orchestras across the U.S. The alliance now has over 80 philanthropic and programmatic partners, including the New World Symphony, the American Federation of Musicians, the New York Philharmonic, the Los Angeles Philharmonic and the Seattle Symphony.
Last year, Sphinx received the largest grant in its history—$3 million from the Fund II Foundation in support of leadership and development programs for classical musicians, arts administrators and cultural entrepreneurs of color. "As a longtime supporter and advocate of Sphinx, it was both crucial and personally meaningful for me to ensure long-term sustainability for these programs," Smith said at the time.
Smith's Fund II Foundation also provides support for Sphinx Venture Fund, through which Sphinx will provide $1.5 million to help classical music organizations roll out diversity, equity and inclusion initiatives.
"In the past two years, we've invested more than $300,000 each year into other institutions—in some cases, it's large institutions with bigger operating budgets than ours," Dworkin told me. "We really believe that change needs to be led by many people, and sometimes, it has to be instigated by a place like Sphinx or done in partnership, and we're happy to do that." Sphinx has provided over 500 artist project/career grants totaling more than $2.7 million to Black and Latinx classical artists in the last five years.
Engaging individual donors
I found Smith's support for Sphinx to be striking, since foundations, rather than individual donors, typically take the lead on equity work at performing arts organizations. That's been a hurdle for fundraisers. As American Theatre Wing President and CEO Heather Hitchens recently told me, "if mega-donors don't get on board, we're not going to get very far."
Dworkin acknowledged a similar tension in the classical music space. Despite making tremendous progress over the past five to 10 years, Dworkin said that identifying donors willing to "take a chance and see the validity behind the concept like Sphinx" remains the "largest area of challenge" from a development perspective. "It's very difficult work that takes a different approach in staffing and a different caliber of Rolodex," she said, noting that a single donor check can eclipse even a multi-year foundation commitment.
Small and relatively young organizations like Sphinx often lack the kind of networks available to more established orchestras, ballets and opera companies. Moreover, a subset of donors and family foundations typically dominates the performing arts ecosystem in mid-sized cities like Detroit. While these donors may dig deeper because of the events of 2020, few will abandon grantees that they'd assiduously cultivated over years, if not decades.
Dworkin also found that "in times of crisis, we have seen more of those leaps of faith from institutions than individuals, which is understandable, but it's something that's going to have to shift." To her point, a recent report from TRG Arts found that in the first nine months of 2020, the number of gifts received by performing arts organizations in North America increased by 15%, but the average value of those gifts fell by 24% from the previous year.
Dworkin believes that organizations of Sphinx's size and stature can capitalize on opportunities to engage a rising crop of younger philanthropists that appreciate the role of the arts in advancing a more just and inclusive society in a world where theaters and concert halls have been shuttered for over 10 months.
"Making the case as to why we need the arts needs to include not just the traditional 'you get to come to this fancy concert' pitch," Dworkin said, "but also about viewing yourself as a fabric of society and articulating how the arts are this very necessary and singular mode of expression, and how expression is integral to human development, creativity and problem-solving."
Advancing the field
Over the summer, Sphinx virtually held its Sphinx Performance Academy with three separate institutions—the Curtis Institute of Music, Juilliard School and the Cleveland Institute of Music. Ninety students were ultimately selected. "Every one of them can enter a conservatory or music school," Dworkin said. Moreover, "we had to turn down three times as many students because we only had so many resources."
This anecdote proves there's "no shortage of talent nor interest, and if conservatories are looking for a diverse group of students, they are very much here," Dworkin said. "It also supports the fact that amidst the pandemic, our applications have grown across all programs by a cumulative 60%." If institutions across the board were "intentional about their recruitment, engagement, as well as support," she said, "our landscape would look different and the fabric of their own micro- and macro-communities would begin to transform."
To get the ball rolling, Sphinx has compiled a list of action items for individuals, educational institutions and performing arts presenters that, the organization states, would "result in a more just and equitable present and future in the presenting arts world."
For example, Sphinx encourages orchestras, operas and dance companies to program 20% of their seasons to be "reflective of Black and Latinx composers" and "ensure that any and every opening in your ensemble/company and staffing ranks attract and engage an equitable number of Black and Latinx artists and leaders."
The pandemic has shown Dworkin that change is possible. "The field has adapted like crazy," she said, citing the field's rapid and generally successful pivot to the virtual world. "Some of the lessons we're taking with us post-pandemic will be for the better, and I'd like to see that kind of transformation in the sphere of social justice work."
"I want to encourage as broadly and respectfully as possible the field to stand by those promises made and to embrace the discomfort of change," Dworkin said. If funders and orchestras commit to meaningful system change, others will follow, and "in five or 10 years, we'll have a new normal."