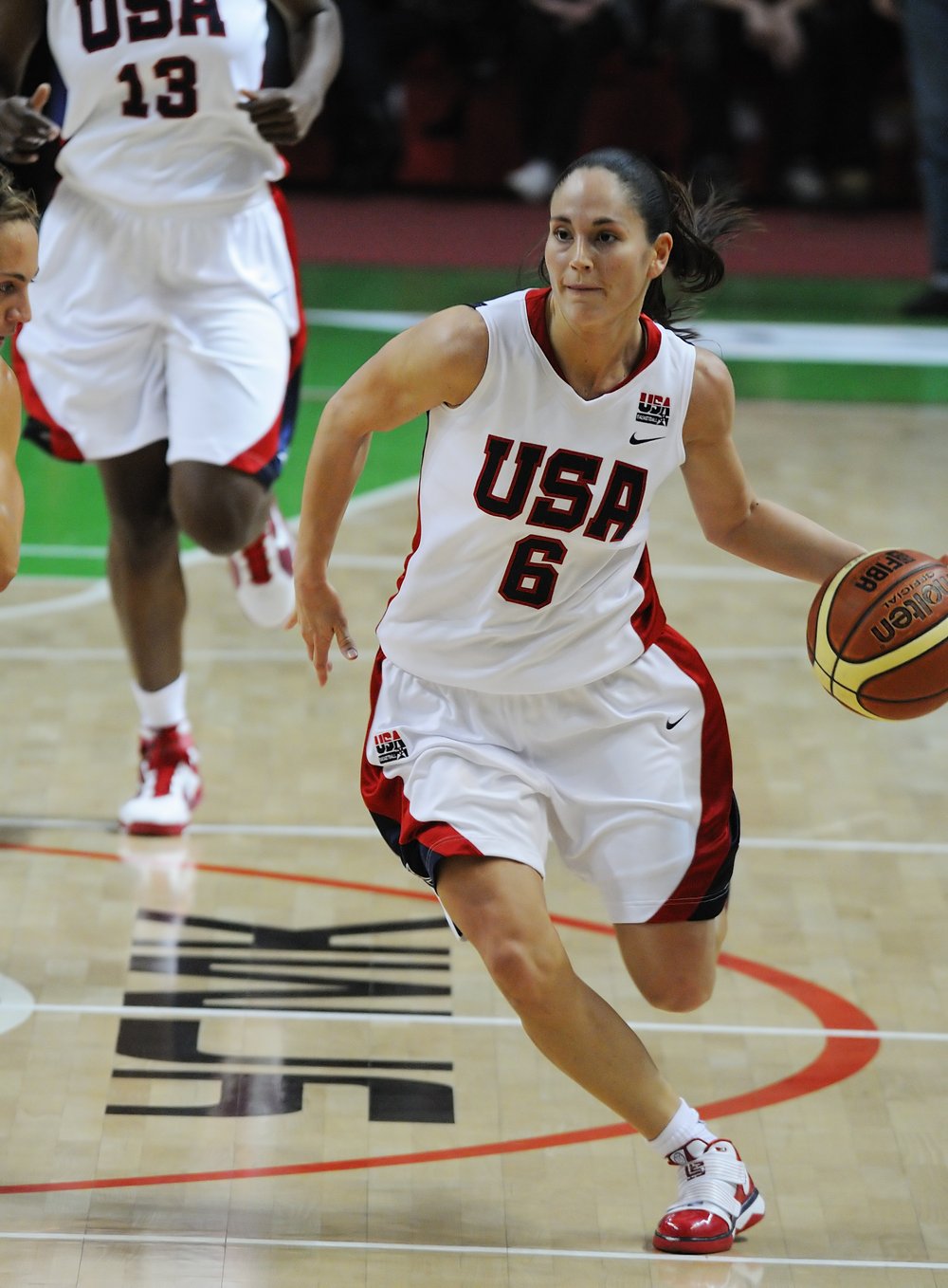 Over the past several years, we've been tracking the expanding philanthropy of top athletes from across major sports leagues. In the NBA, players like LeBron James, Steph Curry and Kevin Durant are building sizable philanthropic portfolios, while stars from the NFL, NHL and even tennis are following suit.
A common refrain in our coverage is that many of these stars are earning more than ever before. The top 10 NBA players alone earned about $367.7 million in salary during the 2019–2020 season. Like other donors coming into their wealth at a relatively young age, some have already begun to donate. But with the bulk of their attention focused on their playing careers, these figures have plenty of time to iron out and deepen their giving interests later.
One league we've only just begun to look at is the WNBA, launched in 1996 with a 1997 tipoff. The league's first eight teams included New York Liberty, headlined by legend Rebecca Lobo, and early dynasty Houston Comets, powered by Cynthia Cooper, Sheryl Swoopes and Tina Thompson. Since then, the WNBA has grown to 12 teams around the country, building up its fan base and a growing roster of star players.
Relative to some of the other sports leagues we cover, WNBA players aren't raking in the big bucks. In fact, there's a massive pay gap between WNBA and NBA players, leading athletes and gender equity advocates alike to cry foul. The average salary in the 2021 season for a WNBA player was a modest $120,648, up from around $75,000 in 2019. Only seven WNBA players made the league's "supermax" salary of $221,450, including legendary guards Sue Bird and Diana Taurasi. Major endorsement deals aren't as plentiful, either.
Many WNBA players play abroad in other leagues in order to continue earning money, including former Los Angeles Sparks player Clarisse Machanguana and current star Nneka Ogwumike, who has also played in Russia. NBA players like Draymond Green have spoken out against this pay gap. There is perhaps some reason for hope, though, and to believe some changes are ahead. A new collective bargaining agreement guarantees that the top players in the league eventually will earn in excess of $500,000 annually.
Despite these realities, top WNBA players have engaged in philanthropy through foundations, individual donations and partnerships. And besides cash, like other so-called "glitzy givers," WNBA athletes have many tools at their disposal to make their mark on the civic and philanthropic arena. For instance, while NBA players are celebrated for their work drawing attention to Black Lives Matter, it's actually WNBA players who were among the first to don warm-up shirts with social justice messaging. WNBA Cares, meanwhile, runs programming related to breast cancer awareness, pride month, and more. Several retired players have also gone on to start their own foundations, including Machanguana and Swin Cash (for this post, we're focusing on active players).
With that in mind, here's a rundown of some of the current WNBA's top philanthropic players:
Elena Delle Donne
The 6-foot-5 Washington Mystics forward started the Elena Delle Donne Foundation to raise funds for and awareness of Lyme disease research and special needs programs. The program includes sports camps that allow non-disabled athletes to play alongside Special Olympics athletes. She also works with the Global Lyme Alliance and Lyme Aid 4 Kids. Delle Donne herself contracted Lyme disease in 2008 and continues to fight the disease. Her older sister, meanwhile, was born with cerebral palsy and autism.
Delle Donne writes on her website:
"There are a lot of misconceptions about people with special needs. I think people react to those with physical and mental disabilities the way that they do because they have a fear of the unknown—a belief that if you touch them, they might break. It's not dissimilar to how people view those with an illness; they're afraid to interact with them because they think the person is fragile. That's hardly the truth. They are complicated and beautiful and human like the rest of us—they just express and experience the world differently."
Tina Charles
Charles was part of the U.S. Women's Basketball team that brought home the gold in the 2012 London Olympics, and has played for the New York Liberty and the Washington Mystics. The center launched Hopey's Heart Foundation after her aunt died of multiple organ failure. Charles began by donating a dozen defibrillators to the New York Department of Education and the Wes Leonard Heart Team, which is dedicated to purchasing and distributing AEDs to schools in and around Michigan. Today, Hopey's Heart is dedicated to saving lives and raising awareness of sudden cardiac arrest through health education, CPR training and AED placement.
Sue Bird
Showing longevity comparable to that of Serena and LeBron, Seattle Storm legend Sue Bird entered the WNBA in 2002 and is still lacing up her shoes. Influenced by her peers Swin Cash and Tamika Catchings, who have retired and have their own foundations, Bird has said she hasn't started her own foundation yet because she prefers to be hands-on. But she does have a particular interest in advocating for children. Bird has worked with the Boys & Girls Club of King County and Z Girls for years, and on the heels of a 2015 school shooting, became involved with Marysville-Pilchuck High School, working with the girls' basketball team.
Married to soccer superstar Megan Rapinoe, the couple work with Athlete Ally, whose mission is to end homophobia and transphobia in sports and activate the athlete community.
Candace Parker
First pick in the 2008 WNBA Draft, Parker is a veteran star of the Chicago Sky. She's also built an active broadcasting resume, regularly appearing on Inside the NBA, SEC Network, the Pac-12 Network, and SportsCenter. Parker has worked with organizations including PETA, Loaves & Fishes, the March of Dimes, D.A.R.E., the Ronald McDonald House, and No Kid Hungry. She's also been involved in both the Alzheimer's Association and Pat Summitt Foundation in honor of her late coach Pat Summitt, who retired from college sports following a diagnosis of early onset Alzheimer's disease.
Breanna Stewart
Stewart has spoken out about the sexual abuse she suffered as a child. The Seattle Storm player partnered with RAINN (Rape, Abuse & Incest National Network) to help steer survivors toward the appropriate resources. Part of the current generation of WNBA stars, Stewart has talked about how older athletes have influenced her activism and civic work, including one LeBron James. "I feel like I'm just someone who is standing up for the things I believe in, which I guess, by definition, makes me an activist. Everybody thinks you're a great basketball player, but then that goes away. Being a survivor of sexual abuse is going to be with me forever," she once said.
Skylar Diggins-Smith
Third overall pick in the 2013 WNBA Draft, Skylar Diggins-Smith launched Skylar's Scholars, a program designed to reward academic achievements of students who overcome challenges in school. She also created the Shoot 4 the Sky camp, which tours around the U.S. providing girls and boys a positive basketball experience.
Maya Moore
Here's an interesting case. Two-time Olympic gold medalist, two-time NCAA champion and four-time WNBA champion Maya Moore announced that she would be taking a break from sport to address social justice issues. She made her way to Jefferson City Correctional Center in Missouri and became a champion of Jonathan Irons, a Black man who was sentenced to a half-century in prison as a teenager for a crime he did not commit. In 2020, with Moore's help, Irons was released from prison. It's unclear if Moore will ever return to basketball. For now, she advances her cause through Win for Justice, a project that aims to advance a fair and equitable criminal justice system.